Thanksgiving dinner recipe
"Wheat & Gluten Free Thanksgiving dinner"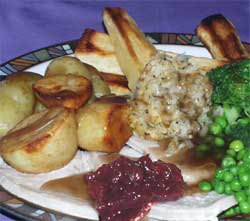 Although Thanksgiving is celebrated on different dates depending on the country you are in, traditionally it's a time for family to enjoy a Thanksgiving Dinner with turkey and all the trimmings. But what about a wheat free or gluten free Thanksgiving?
You do not have to miss out because you have a wheat allergy, intolerance or celiac disease. It's possible to reproduce a traditional Thanksgiving lunch or dinner in a wheat/gluten free version. Nobody needs to miss out, and nobody will know the difference (if you don't tell them).
Thanksgiving lunch or dinner

Main course
roast turkey
vegetarian lasagne
or
vegan meatless loaf
wheat & gluten free chipolatas/breakfast sausages
roast potatoes
or
potato layer bake
roast parsnips
new or mashed potatoes
broccoli florets, carrots, peas, corn, sweet potato, brussel sprouts
stuffing
gravy/onion gravy
cranberry sauce
Dessert
pumpkin pie
fresh fruit salad & whipped cream
assorted cheeses with homemade
cheese biscuits

Thanksgiving snacks
nuts, dried fruit & seeds
tortilla chips or potato chips (avoid flavoured versions)
rice crackers*
salsa
, hummus, sour cream dips
fresh fruit - satsumas, grapes, apricots, figs, berries
cheese biscuits
more
pumpkin pie
cranberry muffins
vanilla shortbread cookies
chocolate
cherry fudge
or
rum truffles

Wheat & gluten free alcohol
champagne, wine,
beer & lager

* always check ingredients, manufacturers do change recipes without telling consumers, so don't assume the item you bought to eat last month will have the same ingredients this month, it may not.