Stuffing recipe
"It wouldn't be a roast turkey without stuffing, make it as herby as you like"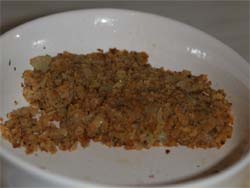 Allergy Information
| | |
| --- | --- |
| Wheat-Free | |
| Gluten-Free | |
| Nut-Free | |
| Dairy-Free | |
| Sugar-Free | |
| Vegetarian | |
| Vegan | |
There are three options for wheat & gluten free stuffing, either buy it ready made/to mix (check it's celiac friendly though), go without, or make it yourself.
Wheat & gluten free stuffing can taste just as good as the traditional wheat containing version, it just doesn't have that sticky consistency that most stuffings have. It's more crumbly, but certainly as tasty, and of course you couldn't serve your Thanksgiving or Christmas meal without it.
While you're making your stuffing why not whip up a batch of cranberry sauce at the same time?
Ingredients
1⁄2 medium
[

1⁄2 medium

]
onion, chopped finely
25g
[

25g

]
butter (use dairy free spread if you want to avoid dairy)
1 tsp
[

1 tsp

]
dried mixed herbs OR thyme OR sage
75g
[

75g

]
gluten free bread, grated or shredded quite small
50ml
[

50ml

]
chicken stock (if you want a vegetarian or vegan version use vegetable stock instead)
freshly ground black pepper
extra butter or oil (enough to prepare the baking dish)
Directions
Preheat oven: 200°C, 400°F, Gas 6
Melt the butter in a frying pan and then sauté the chopped onion until it is golden brown, making sure that you don't burn or over brown it.
Add the dried mixed herbs or thyme or sage and mix well, stir fry for about 30 seconds.
Add the grated bread, mix well and then brown for a few minutes continuously stirring to ensure that the mixture doesn't burn.
Add the chicken stock to the bread mixture. Some people like their stuffing drier/wetter than others so it's personal preference when adding the stock, if you want a wetter mixture simply add more stock.
Butter or oil a small baking dish large enough to fit the stuffing into about 1.5cm (½") thick.
Pour the mixture into the baking dish and press down with the back of a spoon, though not too firmly. Cover with foil and put in the oven for 30 minutes.
When cooked remove from the oven and serve immediately.
We don't recommend that you stuff your turkey as sometimes this can prevent the turkey from cooking thoroughly all the way through. Instead we think it's far safer to bake the stuffing in a separate dish, and then simply serve it with the carved turkey slices and all the other trimmings for your traditional Thanksgiving or Christmas dinner.