New Year's Eve party food recipe
"Wheat & Gluten Free New Year's Eve party food"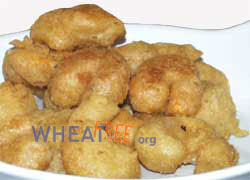 New Year's eve is on the horizon, party time is here. If you have party guests with a wheat or gluten allergy then show them that you care and provide a selection of wheat and gluten free party snacks.
Or better still, if you are the host or hostess then do the entire party catering to suit your dietary needs, no-one will notice the difference and you won't be forced to go hungry all evening in case of cross-contamination.
And of course, if you feed them, they are less likely to get completely bombed with too much alcohol on an empty stomach.
Wheat & gluten free New Years eve party snacks
Sausage dogs
Pizza
with assorted toppings
Crispy king prawns
Potato wedges
with salsa dip
Mini
spicy burgers
Toasted cheesey bites
for dips
Assorted cheeses with
cheese biscuits
Homemade
mince pies
Pickles* - silverskin onions, cornichons/dill pickles
Chips/crackers** - tortilla or potato (avoid flavoured versions), rice crackers
Dips** -
homemade salsa
, hummus, guacamole
Nuts*** - cashews, pistachios, brazils, macadamias, hazelnuts, pecans
Fresh fruit - satsumas/mandarins, grapes, apricots, figs, cherries
Dried fruit - Medjool dates, apricots, cranberries, figs

Wheat & gluten free New Year treats
Vanilla shortbread cookies
Chocolate
cherry fudge
or
rum truffles
Chocolates & truffles

Wheat & gluten free alcohol for New Year celebrations
Champagne, wine,
beer, lager

* Check they are in white wine vinegar
** Always check ingredients, manufacturers do change recipes without telling consumers, so don't assume the item you bought to eat last month will have the same ingredients this month, it may not.
*** Double check no nut allergy guests will be present