Roast potatoes recipe
"Ideal accompaniment for Thanksgiving, Christmas or roast dinners"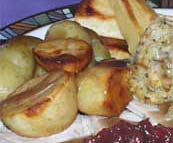 Allergy Information
| | |
| --- | --- |
| Wheat-Free | |
| Gluten-Free | |
| Nut-Free | |
| Dairy-Free | |
| Sugar-Free | |
| Vegetarian | |
| Vegan | |
Preparation time:

10 mins

Cook time:

45 mins

Total time:

55 mins

Yield:

serves 3-4
Everyone seems to love roast potatoes (unless you're Paleo of course), and they certainly shouldn't only be served at Thanksgiving or Christmas. Roast potatoes go well with just about everything, even bangers and beans instead of the traditional mash.
We'd recommend that you make a few extra, as happy diners will be coming back for second helpings.
Ingredients
2-3 tbsp
[

2-3 tbsp

]
olive oil
3-4
[

3-4

]
potatoes
(preferably bakers/floury type)
3-4
[

3-4

]
rosemary sprigs, fresh or dried, (optional)
Directions

Preheat oven: 200°C, 400°F, Gas 6
Preheat a roasting tin with the oil in it.
Peel potatoes and cut into similar sized chunks (the skins can be left on for more rustic looking roast potatoes).
Parboil for 5 minutes then drain them thoroughly and when dry shake them around a bit in the saucepan or in a metal sieve to rough up the surfaces to create a crispy edging when roasted.
Tip into the preheated roasting tin, the fat should sizzle a bit when the potatoes are added. Ensure that the potatoes are coated well with the oil. Sprinkle with the optional rosemary if using.
Roast, turning occasionally to ensure even browning, and being careful not to knock the crispy bits off in the process. To check the potatoes are cooked inside, stick a fork into the thickest part, it should be soft. Depending on size of chunks, it will take approximately 30-60 minutes for the centres to fully cook.