Chunky tomato salsa recipe
"The perfect accompaniment to tortilla chips, or as a flavourful side dish with just about anything"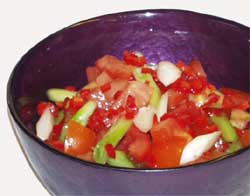 Allergy Information
| | |
| --- | --- |
| Wheat-Free | |
| Gluten-Free | |
| Nut-Free | |
| Dairy-Free | |
| Sugar-Free | |
| Vegetarian | |
| Vegan | |
Yield:

depends on size of tomatoes
This is a really easy recipe to make, it takes minutes. Use firm, just ripe tomatoes, as overripe tomatoes don't give the texture that you need to accompany the other ingredients, and let's face it, overripe tomatoes are yuk!
Make it in advance and keep it chilled until serving. We'd also recommend that you gently turn the ingredients over a few times in the bowl, to ensure that the lime juice coats everything thoroughly and all the flavours intermingle.
Ingredients
6-8
[

6-8

]
tomatoes, chopped
1 bunch
[

1 bunch

]
salad/spring onions, peeled and chopped
1⁄2-1
[

1⁄2-1

]
red chilli, finely chopped (use amount according to taste)
Directions
Chop the tomatoes roughly, discarding the core and most of the seeds.
In a bowl combine the tomatoes, onions, chilli and lime juice, mix well.
Chill in a refrigerator for 30 minutes before serving.
This salsa is simple to make, but so tasty. Delicious served as an accompaniment to virtually anything, including cheese & leek tart, meatless loaf or turkey burgers, in fact just about anything really.
You can spice this salsa up as much or as little as you want simply by adding more or less chilli. Serve it with a big bowl of tortilla chips, and maybe some sour cream too.
If you want to make it more of a salsa dip texture then really finely mince the tomatoes and onions, alternatively use a blender to make a smoother version, leaving some of the chopped tomato, chilli and onion out of the blender to give the salsa a bit more body after it's been blitzed.