Potato layer bake recipe
"Cheese, tomatoes and onions combined to make a filling potato side dish, or vegetarian main"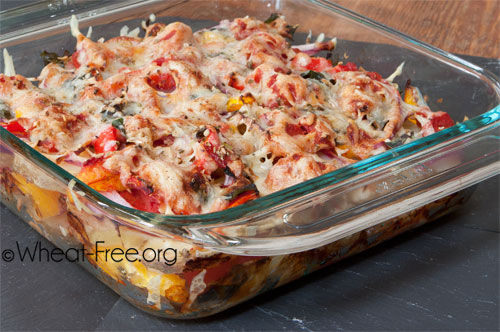 Allergy Information
| | |
| --- | --- |
| Wheat-Free | |
| Gluten-Free | |
| Nut-Free | |
| Dairy-Free | |
| Sugar-Free | |
| Vegetarian | |
| Vegan | |
Preparation time:

25 mins

Cook time:

40 mins

Total time:

1 hr 5 mins

Yield:

serves 3-4
Potatoes are always a great comfort food, and this recipe is just perfect for cold winter evenings. When cooked, the top will be crispy and the inside will be soft, a perfect texture combination.
To make it vegan/dairy free, use non-dairy cheese substitutes instead of the mozzarella and cheddar.
Ingredients (Measures: Metric | US)
3-4 large
[

3-4 large

]
potatoes (floury/baking)
1
[

1

]
yellow pepper, sliced
1 large
[

1 large

]
onion, finely sliced
200g
[

3 cups

]
mushrooms, sliced
1⁄4 tsp
[

1⁄4 tsp

]
dried oregano
400g
[

14 fl.oz.

]
can chopped tomatoes, discard half the juice
1 tbsp
[

1 tbsp

]
shredded fresh basil leaves
110g
[

1 cup

]
mozzarella cheese, sliced thinly or grated
40g
[

1⁄3 cup

]
cheddar, grated
freshly ground black pepper
Directions
Preheat oven: 200°C, 400°F, Gas 6
Scrub the potatoes and cut each one into quarters, boil for 8-10 mins to soften slightly OR prick with fork and microwave whole until half cooked. Allow to cool, then cut into 5mm (approx. 1/4") thick slices.
Lightly oil an ovenproof dish approximately 25cm x 18cm (10" x 7").
Place a layer of potatoes in the base. Sprinkle a layer of onion slices on top of the potato, all of the sliced mushrooms, and half of the sliced peppers. Then spread half the tomato on top, and half the mozzarella.
Repeat potato, onion, sliced peppers layers, adding the shredded basil leaves on top.
Top with the remaining tomatoes, then cover with the rest of the mozzarella and cheddar, sprinkle with dried oregano and black pepper.
Bake in the oven for 40 minutes until golden brown and bubbling.
Serve as a hearty vegetarian meal with a green salad or lightly steamed vegetables. Alternatively use as a starch and vegetable side dish to accompany fish, chicken or meat.