Roast parsnips recipe
"Thanksgiving or Christmas Dinners just aren't the same without crispy roast parnsips"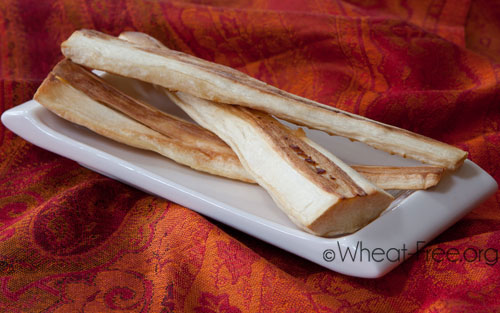 Allergy Information
| | |
| --- | --- |
| Wheat-Free | |
| Gluten-Free | |
| Nut-Free | |
| Dairy-Free | |
| Sugar-Free | |
| Vegetarian | |
| Vegan | |
Preparation time:

5 mins

Cook time:

45 mins

Total time:

50 mins

Yield:

serves 2-3
What no roast parsnips on Thanksgiving Day, Christmas dinner or Sunday roasts? Shame on you. They're incredibly easy to prepare and cook, and so tasty that even a confirmed parsnip hater was turned into a parsnip addict here at wheat-free.org after they tried these.
Every year on Thanksgiving Day and Christmas Day people visit wheat-free.org to look for our roast parsnip recipe, it's the two days that this recipe gets the highest number of visits in the entire year, we kid you not. We're obviously flattered that people visit the site on December 25, but hey, plan ahead and look on Christmas Eve instead, it'll save more time for festivities, eating and drinking on the day.
Note: If you're going to prepare your parsnips in advance, then once they are peeled keep them in a bowl covered with water to stop them going brown. Just before cooking take them out of the water and dry thoroughly, then proceed with recipe.
Ingredients
1-2 tbsp
[

1-2 tbsp

]
olive oil
2 medium-large
[

2 medium-large

]
parsnips
Directions
Preheat oven: 200°C, 400°F, Gas 6
Preheat a roasting tin containing the olive oil in it.
Peel the parsnips and cut into quarter sections lengthways down the parsnip. Remove the hard core of the parsnip with a sharp knife, should be quite easy to just slice down the length of the parsnip to do so.
Remove the roasting tin from the oven and carefully place the parsnips into the oil. Make sure the parsnips are evenly coated in oil (a heatproof pastry brush is a very good tool for this). Place the parsnips in the oven for 25 minutes.
When the 25 minutes are up, remove the parsnips and turn each one over. Put back in the oven for 20 minutes, until golden brown, and a fork stuck into the thickest part goes in easily. Cooking time is of course dependent on the size of the parsnips, if they are small then reduce the cooking time accordingly.
Some people like to parboil their parsnips before roasting, but we find that the results without parboiling are just as good, and cuts down additional work.
Now how easy was that? Roast parsnips with minimal effort, but maximum compliments at the dinner table.