Wheat & gluten free chocolates & candy
August 15, 1502 - On his fourth voyage to the New World, Christopher Columbus became the first European to encounter cocoa beans. Off the coast of what is now Honduras he came across a large dugout canoe that was heavily loaded with local goods for trading, including cocoa beans.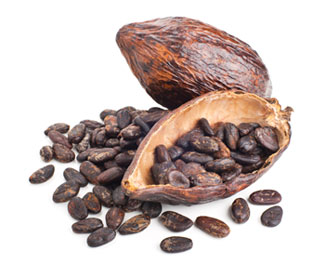 Stories deviate at this point, some say that Columbus was given the cocoa beans as a gift, and others say that he seized the entire vessel and its goods. But, however he got his hands on the cocoa beans he brought them back to Europe where they initally didn't get much attention from the Spanish king and his court.
Twenty years later however, Spanish conquistador Hernando Cortez is said to have brought back more cacao beans, and this time the beans were recognized as one of the prized treasures among the many stolen from the conquered Aztecs.
Fast forward to the 21st Century and our love affair with chocolate continues. Dark, milk, white, salted, spicy, raw, we love it all, making it one of the few items that never suffers a downturn in times of recession. For a relatively small investment it's good for the soul, it raises the spirits, and puts smiles on sad faces.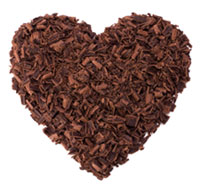 Scientists also say that dark chocolate (in moderation) is good for the heart. And it's also been reported that people who eat lots of of chocolate may be smarter, read Does chocolate make you clever? by Charlotte Pritchard (BBC News).
The biggest thing to be aware of is that the majority of chocolate will either contain, or have traces of, wheat due to shared manufacturing processes. Therefore it's vitally important to always check the ingredients and allergens lists on packaging. Sourcing chocolate that clearly states it is certified gluten free is the safest option, and we speak from some horrible experiences with non-certified chocolate.
There are other pitfalls to watch for, even with items that say 'no gluten containing ingredients', because this is absolutely not the same as gluten free. There may still be the potential for cross-contamination with gluten in the manufacturing process, even if the actual ingredients don't contain it, so check the allergens information on the wrapper. And any chocolate or candy that says 'check the manufacturers website for nutrition information', and there's no ingredients or allergen info on the wrapper at all... walk away.
So, while you bear the above in mind, why not indulge yourself in some good quality wheat free or gluten free chocolate, it's easy to justify... just tell yourself it's a health food.
Based in the US, Gnosis Chocolate handcraft their fabulous selection of chocolates and other cacao based products in New York City, using ethically sourced raw cacao. Their products are also 100% free of gluten, refined sugar, dairy, soy, peanuts, and GMO.
Using low-glycemic sweeteners, nutrient dense superfoods, & medicinal herbs sourced from the Amazon to the Himalayas, they make a mouthwatering selection of truffles, chocolate bars, spreads, and other cacao based products.
The Gnosis Chocolate online store also has items that aren't available in retail locations, and they will ship internationally.
The Chocolate Trading Company has a good selection of wheat & gluten free chocolate, including the really yummy Booja Booja truffles.
Listed in their wheat & gluten free section are a varied selection of chocolate bars and chocolates, including some fun items like chocolate credit cards, games controllers and chocolate roses. They will ship internationally if you're not in the UK and have seen that 'must have' chocolate item.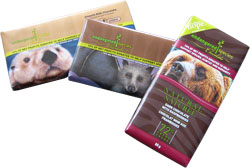 Buy this chocolate and help to save the planet. 10% of net profits are donated to help support species, habitat and humanity.
Their products are certified gluten free, and each bar is made with all-natural ingredients and ethically traded and grown cacao by farmers earning a fair wage in humane working conditions.
Doesn't that make you feel good about a little indulgence?
Nestlé provide a comprehensive list of their gluten free chocolate and sweets, and also their other non-confectionary products. Click here for the latest Free From list produced by Nestlé.
Please take careful note however that items marked with an asterisk are products containing small quantities of gluten which evidently are considered safe for the gluten free diet, this is not the same as a wheat allergy. We would exercise caution here as allergies are not generally tolerant of even tiny quantities of allergen.
If you wish to see nutrition details for their products then click here.
Please note:
Manufacturers do change their recipes so please check the ingredients carefully before eating, or refer to the manufacturers website if they have one.