Christmas/Thanksgiving lunch or dinner recipe
"Including roast potatoes, roast parsnips, cranberry sauce and onion gravy"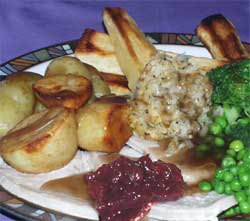 Allergy Information
| | |
| --- | --- |
| Wheat-Free | |
| Gluten-Free | |
| Nut-Free | |
| Dairy-Free | |
| Sugar-Free | |
| Vegetarian | |
| Vegan | |
At Christmas or Thanksgiving you certainly can have your turkey and eat it. Our wheat & gluten free version of the traditional favourite is so easy to make nobody will know the difference... if you don't tell them.
We've put all the individual recipe components on this one page so that you don't forget anything. However if you want to concentrate on one recipe at a time, then click on the links for each item in the main list and you can work from the individual recipes themselves.
Ingredients
wheat free/gluten free chipolatas/breakfast sausages
broccoli florets, carrots, peas, brussel sprouts, sweet potato, corn
Directions
Roast Turkey
Roast the turkey following the cooking instructions and times for the size of turkey you have. If the turkey packaging does not include roasting temperatures and times, and if you are unsure, refer to a good cooking book for correct poultry roasting times.
Always make sure that the turkey is thoroughly cooked all the way through. This may take longer or shorter than the cooking instructions, depending on the oven used etc.
To make completely sure that the turkey is fully cooked, remove it from the oven and push a knife or metal skewer into the thickest part of the meat. If the juices run clear from the hole, then the turkey should be completely cooked. If the juices are slightly coloured or blood shows then the turkey needs more roasting time.
Remember - an incorrectly defrosted or undercooked turkey can spoil your festive season.
Roast potatoes
Cooking temp: 190°C, 375°F, Gas 5
Cooking time: 30-60 minutes (depending on size)
Preheat a roasting tin containing 2-3 tbsps of oil in it.
Peel floury potatoes and cut into similar sized chunks (the skins can be left on for more rustic looking roast potatoes).
Parboil for 5 minutes then drain them thoroughly and when dry shake them around a bit in the saucepan or a metal sieve to rough up the surfaces to create a crispy edging when roasted.
Tip into the preheated roasting tin, the fat should sizzle a bit when the potatoes are added. Ensure that the potatoes are coated well with the oil.
Roast, turning occasionally to ensure even browning, being careful not to knock the crispy bits off in the process.
Roast parsnips
Cooking temp: 200°C, fan 180°C, 400°F, Gas 6
Cooking time: 45 minutes
Preheat a roasting tin containing 2 tbsps of oil in it.
Peel the parsnips and cut into quarter sections lengthways down the parsnip. Remove the hard core of the parsnip with a sharp knife, should be quite easy to just slice down the length of the parsnip to do so.
Remove the baking dish from the oven and carefully place the parsnips into the oil. Make sure the parsnips are evenly coated in oil (a heatproof pastry brush is a very good tool for this). Place the parsnips in the oven for 25 minutes.
When the 25 minutes are up, remove the parsnips and turn each one over. Put back in the oven for 20 minutes, until golden brown.
Some people like to parboil their parsnips before roasting, but we find that the results without parboiling are just as good, and cuts down on additional work.
Vegetables
These can all be prepared well in advance.
Simply cook your selection of vegetables in the normal way.
Stuffing (two options)
Buy a gluten free readymade stuffing mix.
Make your own, our stuffing recipe is quick and easy to make.
Chipolatas/breakfast sausages
Cooking temp: grill, pan fry or oven bake 190°C (fan 170°C), 375°F, Gas 5 Cooking time: 4 minutes - 25 minutes (depending on cooking method)
If you're buying gluten free readymade chipolatas/breakfast sausages then follow the instructions on the packet.
If there are no instructions included then baking for 20-25 minutes in the oven with the turkey should be sufficient to ensure they are cooked thoroughly, just don't let them get crispy and check they are fully cooked all the way through before serving.
Gravy (options)
Onion gravy
If you want slightly more adventurous gravy then onion gravy is a lovely addition to the meal.
Finely slice a medium sized onion and place in a frying pan with 1 tbsp oil. Gently fry the onion until is it lightly browned, ensuring that it does not burn, blacken or caramelise.
Add the fried onion to the gravy mix option that you are using before heating it up and then heat gently, stirring to ensure that it doesn't go lumpy. If you leave the gravy to very gently simmer the onions will add a lovely flavour to it.
When ready to serve pour over the roast turkey. Some people prefer to strain the onions from the gravy, but we like them to stay in. Make sure you make plenty of onion gravy as there are sure to be requests for second helpings.
Cranberry sauce (two options)
Ready made cranberry sauce is an easy option, however make sure that there are no added ingredients that will cause a problem with wheat or gluten free diets.
Make your own. Our cranberry sauce recipe is super easy and quick.
This festive lunch or dinner is still totally traditional, no one will notice the wheat free difference. You certainly do not need wheat to make it a lovely festive meal. Everything can be worked around, and the times taken to cook everything are identical to the times taken for the normal wheat containing version.