Wheat & gluten free beers
The German Beer Purity Law (Reinheitsgebot) of 1516 stated that the only ingredients that could be used in beer production were water, barley, and hops. Note that yeast is not mentioned, it didn't arrive on the scene until 300 years later.
There are two popular reasons cited for the Reinheitsgebot:
To prevent price competition with bakers for the more valuable wheat and rye.
Because once the idea of beer caught on unscrupulous brewers were adding ingredients such as tree bark, fish bladders, eggs and who knows what else to their beer.
So in theory if the Reinheitsgebot was still adhered to today, and providing the supply of barley was pure, then people with wheat allergy or intolerance could drink any beer, unfortunately this though would still leave the celiacs out in the (beerless) cold.
Sadly this isn't the case. Beer isn't just made from water, barley, and hops any more. It now has other ingredients, is often made from wheat, barley can usually no longer be guaranteed pure, and modern beers are often chock full of preservatives that will help make sure that your body will be better preserved than King Tut if you're dug up in a few millenia.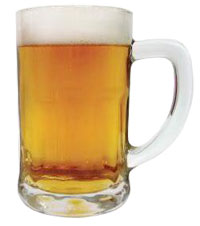 What do they use to make gluten free beer if they can't use barley (or wheat)? Generally gluten free beers are made with buckwheat, sorghum, millet or rice. (Note: buckwheat is a member of the rhubarb family, not related to wheat at all).
There are also beers appearing on the market that have been brewed with barley, then using an enzymatic process the gluten is reduced to levels below the Gluten Codex of 20ppm. These are not "certified gluten free", but are "gluten reduced". Omission Beer, for example, has been given the Celiac Sprue Association's Recognition Seal of Approval as being risk free for celiacs.

In recent years breweries have caught on to the fact that there was a very large beerless celiac market that had been left untapped. As a result some very good gluten free beers have appeared on the market, with the same alcohol content of their gluten containing cousins.
US:
Canada:
Glutenberg (Brasseurs Sans Gluten):
Blonde - dry and citrusy, an easy to drink beer
American Pale Ale - citrus and caramel notes, coupled with a mild bitter finish
Red - roasted chestnuts endow this beer with toasted nuts and caramel hints, to give it a unique aromatic personality
Belgian Double - 6.5% alcohol level and warm and spicy notes


Les bières de la Nouvelle-France:
La Messagère - pale ale with a bouquet of honey, and a touch of citrus fruits
La Messagère Millet - malted millet lager
La Messagère Red - rice and buckwheat beer with a delicate, woodsy taste


Snowman Brewing Co.:
No Fool For Trying Honey Lavender IPA - honey lavender India pale ale; notes of bread, honey, lemon, violin and guitar, floral and citrus on the nose
Pail Ale - pale ale; notes of floral, wood, citrus, and grapefruit
Top Hat Ale - English style amber ale; notes of fruit, caramel, biscuits, and earth
Who's That Brown Ale - brown ale; notes of caramel, cocoa, nut, and toffee
UK:
Australia:
O'Brien Brewing :
Black lager - brewed in the German Schwarzbier tradition, with roast coffee aroma, rich chocolate flavour, floral and spicy notes
Brown ale - European dark ale inspired with a deep copper hue and a balance of caramel and spicy roasted flavours
Light lager - World's first naturally brewed low alcohol gluten free beer
Pale ale - light golden ale with citrus and tropical fruit flavours, Australia's first commercially produced gluten free beer
Premium lager - full-bodied, naturally craft-brewed, gluten free lager with distinct floral aroma
Belgian ale - made with pale and lightly roasted sorghum malts, millet malts and Belgian candi sugar, giving it earthy and fruity characters
Other countries: