Cheese biscuits recipe
"Cheesey biscuits topped with parmesan, awesome warm from the oven, great cold too"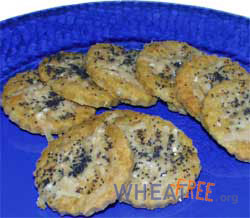 Allergy Information
| | |
| --- | --- |
| Wheat-Free | |
| Gluten-Free | |
| Nut-Free | |
| Dairy-Free | |
| Sugar-Free | |
| Vegetarian | |
| Vegan | |
Preparation time:

10 mins

Cook time:

12 mins

Total time:

22 mins

Yield:

makes 17-20
Nearly everyone who likes cheese likes cheese biscuits, so this recipe should delight cheese lovers everywhere.
If you fancy something savoury then these cheese biscuits take about 10 minutes to make and just 12 minutes to bake. Once they come out of the oven your taste buds will really start to tingle, let them cool slightly to set before tucking in while still warm, they also taste great cold.
Ingredients
75g
[

75g

]
butter or margarine
2 tsp
[

2 tsp

]
gluten free mustard (smooth or wholegrain)
1⁄4 tsp
[

1⁄4 tsp

]
cayenne pepper
125g
[

125g

]
cheddar, grated
25g
[

25g

]
parmesan cheese, grated
1 tbsp
[

1 tbsp

]
poppy seeds
Directions
Preheat oven: 200°C, 400°F, Gas 6
Mix the flours, fat, mustard, xanthan gum and cayenne together until it looks like breadcrumbs.
Add the cheddar and knead the mixture into a soft dough. Turn onto a lightly rice floured surface and knead until dough looks smooth.
Optional - Place dough in a plastic bag and refrigerate for 30 mins. You can leave this step out if time is short, the dough will just be softer and stickier to roll out without chilling first.
Roll out dough on a lightly rice floured surface approximately 5mm (just under ¼") thick and cut into shapes with cookie cutters. Use all the dough, even if you end up making an odd shaped final biscuit... this one is the chef's perk.
Line baking trays with non-stick baking parchment and place the biscuits on them, leave a bit of space between to allow for slight expansion during cooking.
Sprinkle the biscuits with the grated parmesan and poppy seeds.
Bake for 12 minutes, until golden looking. Remove from oven and immediately place biscuits on a wire rack to cool, if you leave them on the baking tray to cool they won't go as crisp.
These biscuits are delicious hot or cold, and should be kept in an airtight container for 2-3 days to eat them at their best.
They also make a very good accompaniment to soup, and can be substituted anywhere that bread or crackers would be eaten.