Meatless loaf recipe
"Made with tofu and a tangy surprise from tomato ketchup, makes a great bagged lunch item too"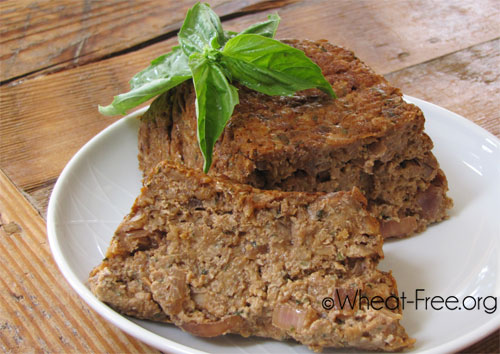 Allergy Information
| | |
| --- | --- |
| Wheat-Free | |
| Gluten-Free | |
| Nut-Free | |
| Dairy-Free | |
| Sugar-Free | |
| Vegetarian | |
| Vegan | |
This meatless loaf recipe is a tasty alternative for non-meat eaters, or why not try it instead of traditional meatloaf for a vegetarian change?
Sliced up it makes a great sandwich filling with sliced dill pickles, mustard, or mayo and salad.
Important note: even using certified gluten free oats it may not be suitable for all celiacs, as some are very sensitive to avenin contained in the oats, see our oats FAQ for more info.
Ingredients (Measures: Metric | US)
500g
[

2 cups

]
extra firm
tofu
, mashed
5 tbsp
[

5 tbsp

]
tomato ketchup (check wheat free/vegan status)
4 tbsp
[

4 tbsp

]
tamari
(wheat free version)
1 med.
[

1 med.

]
onion, finely chopped
4 tbsp
[

4 tbsp

]
parsley, finely chopped
2
[

2

]
garlic cloves, finely chopped
2 tbsp
[

2 tbsp

]
dijon mustard (check wheat free/vegan status)
freshly ground black pepper
Directions
preheat oven: 180°C, 350°F, Gas 4
Mash the tofu, a potato masher works well for this. Alternatively mix in a food processer, but do not purée.
Add all of the other ingredients and mix until well combined.
Spoon into a 1lb loaf tin, either oiled or lined with baking parchment. Press mixture down, it will be quite spongey so won't compress very much.
Bake for 1 hour then remove from oven and allow to cool in the tin for 15 minutes. After the resting time place a plate over the top of the tin and turn the tin and plate upside down to release the meatless loaf onto the plate.
Slice with a sharp knife and serve hot or cold.
Because it's made from tofu it will be softer than traditional meatloaf, which is why extra firm tofu should be used to make it.