The Allergy-Free Cook Makes Pies and Desserts book review
In 2011 we were asked to review The Allergy-Free Cook Bakes Bread: Gluten-free, Dairy-free, Egg-free by Laurie Sadowski (read our review), and we loved her bread recipes. Laurie Sadowski now has a new book, The Allergy-Free Cook Makes Pies and Desserts, her publisher sent us a copy to review and Laurie kindly gave us permission to share a couple of the recipes with you.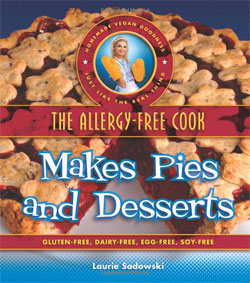 The bread recipes from her previous book were great—we were allowed to post the fantastic Wholesome Flax Bread recipe on our site—so we were really excited to receive this new recipe book.
First of all, we loved the bright cover of the book it made us want to dive in immediately, and a quick scan of the recipes had us drooling in anticipation. The book contains useful information that, while some of it might seem obvious to experienced celiacs, will be useful to people new to gluten free.
There is also a section on flours and starches which is essential reading for everyone. Sometimes it's easy to get a little stuck in our ways with the same old alternative flours, and this section shares brief information on some that you might not have tried... yet.
The book also covers flour substitutions, and provides information on sugars, fats, nuts, seeds, coconut, fresh fruit, flavour enhancers, chocolate and cocoa, and egg and milk replacements.
So let's get to the recipes. The book contains 62 mouthwatering sounding recipes:
Pies and Cheesecakes, including:
Peach pie with buttery double crust
Pumpkin pie with pecan streusel
Peanut butter blondie pie with cocoa crust
Chocolate-hazelnut truffle pie
Blueberries and cream pie
Coconut cream cheesecake
Tarts of All Sizes, including:
Chocolate-caramel-pecan tart
Better than butter tarts
Lemon-glazed carrot cake tart
Shortbread lemon tarts with white chocolate drizzle
Sticky molasses shoofly tarts
Cobblers, Crisps and Other Fruite-Filled Desserts, including:
Double chocolate-raspberry cobbler
Strawberry-rhubarb snickerdoodle cobbler
Maple-apple-pecan crisp
Nova Scotian blueberry grunt
Blackberry buckle
Puddings, Pudding Cakes, and Layered Desserts, including:
Chocolate-pumpkin custards
Lemon-blueberry pudding cake
Fudgy mocha pudding cake
Black Forest trifle
Gingersnap-pumpkin icebox cake
Ice Cream and Frozen Desserts, including:
Very vanilla ice cream
Peanut butter-brownie bite ice cream
Hot fudge sundaes in sugar cone bowls
Magical caramel-swirled brownie sundaes
Frozen Kahlua mud pie
The first recipe to be tried by common consent was the Double Chocolate-Cherry Cheesecake (sorry, we can't share this recipe with you, but believe us when we say it was good). The recipe is very straightforward to make, but we did experience a problem trying to liquidise the dried coconut, our blender just couldn't cope with the effort required so we ended up leaving the coconut a little granular. This meant that the cheesecake didn't get the smooth texture that was intended, but we don't think it affected the taste.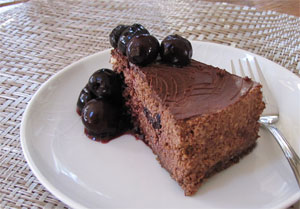 The recipe makes a huge cheesecake and would comfortably feed more than the 12 portions stated. Plus cutting it into a few extra slices would bring the 530 calories per portion down a bit. The photograph shows the finished cheesecake. Please note that correctly liquidised coconut shreds would have given it a smooth cheesecake texture rather than the granular texture our photo shows.
Although we can't post this recipe we do have permission to post recipes for the Cranberry Pie with Maple Cashew Cream, and the Blueberry Toaster Pastries, so we'll get those photographed and posted asap.
The recipes do take some time to prepare, and we were caught out a couple of times, for example, the Double Chocolate-Cherry Cheesecake needs to sit in the fridge for another 12 hours after it's been made. Also there are some very specific instructions like freezing the chopped Vegan Buttery for 20 minutes before using. But just a bit of advance preparation is all that is needed, and the results certainly prove it's worth the effort to follow the instructions faithfully.
Some of the calories counts did raise our eyebrows a bit as they were a little on the high side, for example over 800 calories per portion for the Magical Caramel-Swirled Brownie Sundaes. Sugar does feature quite highly in many recipes too. But while not ideal for regular dietary use, for special treats they are a wonderful indulgence. There are also recipes that are under 200 calories per portion, so if you're watching your calorie intake you don't have to miss out on a sweet treat.
It would be nice if the book had a few glossy recipe photos, however, as they say, never judge a book by its cover, or in this case a recipe book by its lack of photos. We think that if you buy this book you will not be disappointed. The recipes are carefully explained, and the ingredients are all relatively easy to source, though there are a few seasonal items that may dictate when you make a particular recipe.
We liked this book, and as there are 62 recipes to try we'll definitely be working our way through a great many more of them over the coming festive season.