The Allergy-Free Cook Bakes Bread Book Review
Not another gluten free recipe book you groan... well hold that thought because you might be pleasantly surprised by The Allergy-Free Cook Bakes Bread: Gluten-free, Dairy-free, Egg-free by Laurie Sadowski.
The book contains useful information that, while it might seem obvious to experienced coeliacs, will be useful to those people new to gluten free. And although the recipes are vegan, as well as gluten free, we think it would be easy to substitute butter or milk for vegan buttery spread or non-dairy milk if you don't have vegan versions available, the book gives tips.
A glossary also provides useful information just in case you're wondering about something in particular, and there are 72 recipes, so there is a good selection to choose from:
21 sweet breads including: cinnamon-swirled sweet potato bread, sugarcoated muffin bites, double-chocolate muffins and maple-glazed baked doughnuts
19 savoury breads including: cheesy animal crackers, basic "buttermilk" biscuits, spicy southwest scones and buckwheat tortillas
15 sweet yeast breads including: double-chocolate hazelnut bread, banana-nut monkey bread, chocolate-filled pumpkin cinnamon rolls with orange glaze, and baked peach fritters with lemon glaze
17 savoury yeast breads including: wholesome flax bread, Mexican mole bread, multigrain hempseed bread, Italian breadsticks, New York-style bagels, Ladenia (olive oil bread), and sun-dried tomato focaccia with shallots and herbs
So far we've only tried two of the recipes and we followed them exactly as written:
Wholesome flax bread This is a relatively easy recipe to make and the results were very good, we used agave nectar instead of maple syrup.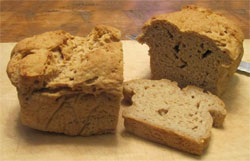 When we took the bread out of the oven it looked and smelt great. It sliced easily and wasn't dry or crumbly like many gluten free breads. The taste test is the most important, and it didn't disappoint. The bread was moist and flavourful and would make perfect sandwiches for a packed lunch.
After storing some slices in the fridge overnight we actually thought that the bread tasted even better, and it was still moist and light. Some frozen slices also defrosted perfectly to make great tasting, non-crumbly sandwiches.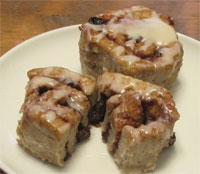 Breakfast cinnamon buns This recipe was fiddly to make, and rolling the dough was challenging as it was so sticky, however it was worth the time and effort.
We rolled the dough to the exact size specified, and ended up with 10 buns packed into the baking pan. They didn't increase in size as much as we had hoped, however baking at altitude in the Rocky Mountains can sometimes skew yeast results so it might not be the buns fault.
The resulting baked cinnamon buns were pretty impressive, and smelt very appetising. We glazed them and gave them the taste test while still warm. Delicious.
To summarise our thoughts on The Allergy-Free Cook Bakes Bread, although we've only tried two of the recipes so far we're fairly confident that we're going to get some more successes when we try the others.
Calorie counts are a little bit dodgy. If a recipe states "yield: 12 to 18 slices", then stating 117 calories per slice is a little imprecise because it doesn't refer to whether it's for 12 or 18 slices, but that's a minor issue
Our only real criticism is that the book doesn't contain photos of completed recipes. Recipe photos normally dictate whether we buy a recipe book or not, however, as they say, never judge a book by its cover, or in this case, a recipe book by its lack of photos.
If you buy this book we don't think you'll be disappointed, in fact just the opposite, you'll be enjoying some of the breads that you miss since going gluten free.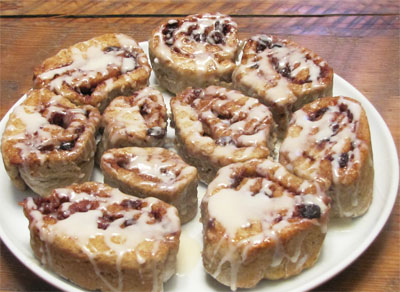 Addendum 11/28/2011: Ladenia (olive oil bread)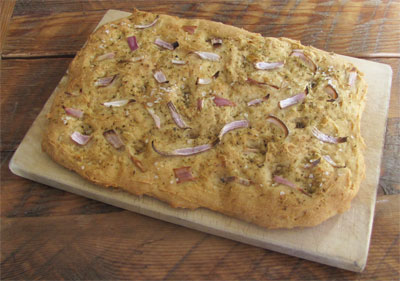 Another really tasty (flat) bread. Our only deviation from this recipe was using red onions instead of yellow, and not adding roma tomatoes to the top (because we didn't have any).