Sausage dogs recipe
"a.k.a. pigs in blankets, a tasty, quirky snack that's great for party food or kids lunch"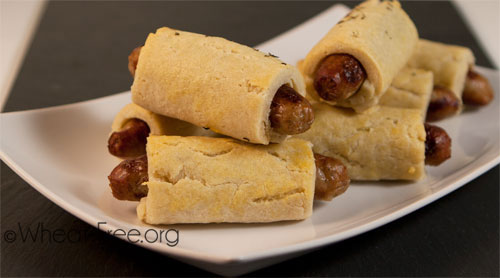 Allergy Information
| | |
| --- | --- |
| Wheat-Free | |
| Gluten-Free | |
| Nut-Free | |
| Dairy-Free | |
| Sugar-Free | |
| Vegetarian | |
| Vegan | |
Preparation time:

15 mins

Cook time:

25 mins

Total time:

40 mins

Yield:

makes 12
Sausage dogs a.k.a. pigs in blankets are a favourite for everyone.
After trying store bought gluten free sausage rolls that were tiny bits of filling in thick layers of dry pastry, which took a lot of chewing and washing down, we thought we could do better. Kids and adults alike will love their quirky look.
We like to dip them in tomato ketchup... lots and lots of tomato ketchup.
Ingredients
100g
[

100g

]
low-fat spread, margarine or butter
1 tsp
[

1 tsp

]
Dijon mustard (check wheat & gluten free)
12
[

12

]
breakfast/chipolata sausages (check wheat & gluten free)
1
[

1

]
egg, beaten, for glazing pastry
dried thyme, for sprinkling on top (optional)
Directions
Preheat oven: 200°C, 400°F, Gas 6
Line a baking tray with non-stick baking paper.
Mix the flours, fat & xanthan gum until it resembles fine breadcrumbs.
Add the mustard and enough water until it binds into soft, but not sticky, pastry.
Now brown the outside of the sausages, put in a frying pan with a little oil and lightly brown them all round, about 5 mins on a medium heat. Immediately tip them onto kitchen paper and dry them thoroughly to remove any fat or grease. Use them immediately to wrap in the pastry as they are not fully cooked yet, do not leave them to stand around and get cool.
On a brown rice floured surface, roll out pastry to 5mm thick (just under ¼"). Cut into strips approx. 2.5cm (1") narrower than the length of the sausages being used (this is so the ends of the sausages stick outside the pastry).
Roll up the sausage in the pastry strip and cut the pastry off 1cm (just under 1/2") longer than is needed to wrap the sausage. Gently press the seam together, you may need to use a bit of beaten egg or water to help the pastry seal together.
Place the pastry wrapped sausage dog on the baking tray and repeat steps 4 & 5 until all the sausages are wrapped in pastry. Brush the pastry with beaten egg and sprinkle with the optional thyme if using.
Bake for 20 minutes
and until the sausages have cooked completely through with the pastry crisp and golden.
These are great hot or cold for party nibbles, snacks or lunchboxes. Why not serve them with a spicy tomato dip, or for the kids with tomato ketchup.