Halloween chocolate, candy, sweets & treats recipe
"Wheat & Gluten Free Halloween chocolate, candy, sweets & treats"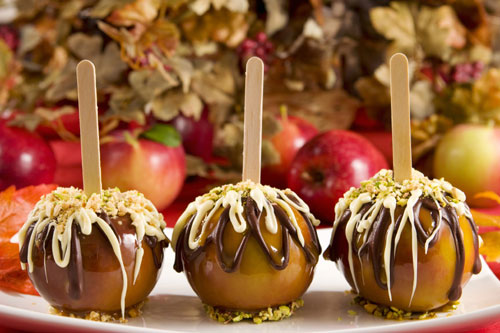 It's the time of the year when ghosts, ghouls, witches, wizards, vampires and the walking dead roam our streets looking to satisfy their sweet tooth (or fang).

Everybody should get to 'trick or treat' at least once in their childhood, with fabulous costumes, and lots and lots of spooktastic fun. It's also a time for a little overindulgence, so why not try a few homemade Halloween treats like our chocolate toffee apples recipe or Harry Potter's favourite, a yummy treacle tart recipe.
If you're not actually 'trick or treating' then you need to be prepared for a doorstep of pint sized Halloween monsters all expectantly hoping for some candies or chocolate for their swag bag.
Don't disappoint your neighbourhood ghoul, have a great selection of candy & chocolate waiting for the doorbell to ring. If you're worried about peanut allergy issues then there are several brands that mark their mini chocolate bars as "peanut free", although items marked "gluten free" is a little more challenging.
Endangered Species make treat size squares of their chocolate, which are certified gluten free (read our review). In this mini size they come in three flavours: milk, dark, and dark mint. You can buy them online at Amazon.com & Amazon.ca, as well as natural food retailers across North America. And if you're in the UK, Thornton's have a Halloween selection of treat size goodies.
And of course, at the end of the evening if you find that you've got a few goodies left, wheat or gluten free of course, then forget about the tricking and treat yourself.
| | | |
| --- | --- | --- |
| UK based, ships internationally | | US based, ships internationally |
Don't forget!


If your little monsters and ghouls are trick or treating then make sure they have a responsible person (adult) with them at all times, and don't forget to vet the Halloween swag for food allergies before allowing them to eat it.