Spicy burgers recipe
"Great for barbeques and can be made with ground bison, beef or lamb"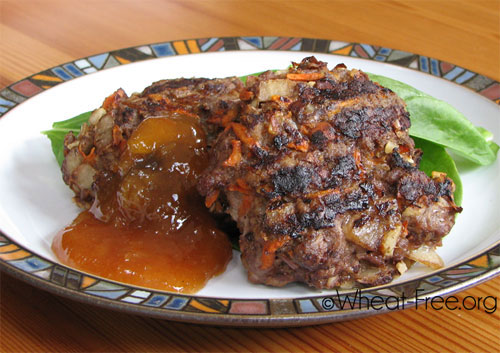 Allergy Information
| | |
| --- | --- |
| Wheat-Free | |
| Gluten-Free | |
| Nut-Free | |
| Dairy-Free | |
| Sugar-Free | |
| Vegetarian | |
| Vegan | |
Preparation time:

30 mins

Cook time:

15 mins

Total time:

45 mins

Yield:

makes 8
Burgers are always a favourite and these burgers are certainly no exception, they have a delicious spice mix that makes them just that little bit different. We recommend that you serve these burgers with mango chutney as it really compliments the flavours of the spices in the burgers.
Although we cooked them in the oven, for the barbeque season they are also ideal for cooking on the grill in the great outdoors.
Ingredients (Measures: Metric | US)
Preheat oven: 180°C, 350°F, Gas 4
1 large
[

1 large

]
onion, finely chopped
1 tbsp
[

1 tbsp

]
garam masala
(if you can't buy it, it's easy to make your own)
1 tsp
[

1 tsp

]
ground cinnamon
450g
[

1lb

]
extra lean ground bison, beef or lamb
1 large
[

1 large

]
carrot, peeled and grated
50g
[

1⁄3 cup whole almonds

]
almonds, chopped
50g
[

½ cup

]
gluten free breadcrumbs
1
[

1

]
lemon, grated zest only
1 large
[

1 large

]
egg, beaten
freshly ground black pepper
Please note this recipe contains nuts
Directions
Heat the olive oil in a large pan and gently cook the onion until it is soft and golden (approx. 10 mins), make sure that the onion doesn't burn or overcolour.
Add the garam masala and the cinnamon and cook for 1 minute. Remove from heat and tip into a large bowl. Keep the pan aside for later use.
Add the ground beef or lamb, carrot, almonds, breadcrumbs and lemon zest to the bowl containing the onion mixture and combine the ingredients. Season with black pepper and add the beaten egg. Mix well together.
Divide the mixture into 8 portions, then shape each one into a burger shape.
Heat a small amount of olive oil in the pan previously used for frying the onion and spices. Place the burgers in the pan and sear quickly on each side. Remove from the pan and place on a non-stick baking tray.
Bake the burgers for 15 minutes or until they are completely cooked through, or stick them on the BBQ to cook.
These burgers grill/barbeque really well if you don't want to oven cook them. They can be served in a wheat/gluten free roll with lettuce and mango chutney, relish or mustard, or with our potato layer bake.
As long as the ground bison, beef or lamb has not been frozen before making into burgers you can also freeze the completed burgers after you have made them, perhaps in advance for a bar-b-que, but do not cook before freezing. Simply lay small squares of baking paper between each burger to stop them sticking, then store in airtight bags or freezer boxes. Thaw thoroughly before use.