Mince Pies recipe
"Essential Christmas fare with an easy to make juicy spiced fruit filling and dessert pastry"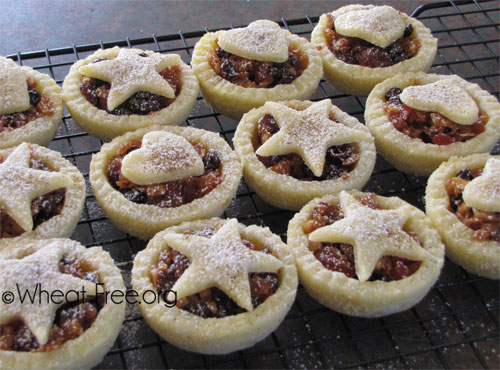 Allergy Information
| | |
| --- | --- |
| Wheat-Free | |
| Gluten-Free | |
| Nut-Free | |
| Dairy-Free | |
| Sugar-Free | |
| Vegetarian | |
| Vegan | |
I always loathed mince pies as a child, all that candied peel just didn't appeal to my taste buds one bit.
With these mince pies there's not a piece of candied peel in sight, the orange and lemon are puréed so they still add the flavour without having the lumps of peel to chew on.
Make the mincemeat filling 24 hours ahead of making the mince pies to allow the flavours to really infuse the mixture.
If you want to make the recipe processed sugar free then simply leave the sugar out of the pastry, or substitute with a couple of drops or one single serve packet of Stevia.
Ingredients (Measures: Metric | US)
Pastry:
150g
[

2⁄3 cup

]
butter or margarine
1 1⁄2 tbsp
[

1 1⁄2 tbsp

]
caster sugar
butter for greasing mince pie tins
gluten free flour for dusting pastry rolling area and buttered tins
beaten egg for brushing the pastry (substitute: milk)
superfine/caster sugar for dusting pastry top
cinnamon for dusting pastry top (optional)
confectioners/icing sugar for dusting before serving
Filling:
gluten free mincemeat (check for nut free if required and check suet is vegetarian if included in ingredients)
Homemade filling, adapted from recipe on BBC Food website (make this 24 hours in advance):
50g
[

1⁄3 cup + 2 tbsp

]
dried cranberries
50g
[

1⁄3 cup

]
glacé cherries
2 1⁄2 tsp
[

2 1⁄2 tsp

]
mixed spice (substitute: gluten free apple pie spice)
1⁄2 large
[

1⁄2 large

]
apple, cored, unpeeled & chopped (Bramley, Braeburn or Fuji work best)
1⁄2
[

1⁄2

]
organic lemon, unpeeled & chopped, remove pips
1⁄2
[

1⁄2

]
organic orange, unpeeled & chopped, remove pips
Directions
Homemade mincemeat filling:
Mix the cranberries, currants, sultanas, cherries & mixed spice in a large bowl.
Put ¼ of the apple, the lemon and orange pieces into a blender and purée.
Finely chop the other ¼ of the apple.
Mix the fruit purée and the chopped apple into the dried fruit.
Add the brandy and mix well.
Refrigerate in a sealed glass jar for 24 hours, mixing occasionally to ensure all the brandy is soaked into the fruit. Use as required.

Preheat oven: 200°C, 400°F, Gas 6
Lightly butter or oil muffin trays and lightly flour them with gluten free flour.
To make the pastry put the flours, butter, xanthan gum and sugar into a large bowl and mix until it resembles fine breadcrumbs.
Add the egg yolk and enough water to bind the dry ingredients together without making it wet and sticky. If the pastry is too wet add a little more gluten free flour.
Cover the bowl with clingfilm and place in the refrigerator for 30 minutes.
Roll out the chilled pastry on a lightly gluten free floured surface until it is approximately 5-6mm thick (just under ¼").
Using a floured cutter cut out circles of pastry that are slightly larger than the muffin tray holes, place the pastry over each hole and very gently ease it into the base.
Fill each pastry case with mincemeat.
Roll out the remaining pastry and cut it into fancy shapes with small cutters making sure that the shapes are smaller than the diameter of the mince pies, place on top of mincemeat filling.
Brush the pastry tops with beaten egg or milk and lightly dust with castor sugar and cinnamon (optional). Place in the oven for 20-25 minutes or until the pastry tops are lightly browned and crisp.
Allow to cool for 15 minutes in the tins before removing onto a cooling rack.
Before serving lightly dust with confectioners sugar.
These mince pies are delicious served hot or cold. They will keep in an airtight container in the fridge for 2-3 days, or can be frozen. We recommend that you warm them for a few seconds in the microwave to really enjoy the fragrant filling.