Crispy king prawns recipe
"Light, crispy gluten free tempura style batter makes these the perfect, irresistible buffet treat"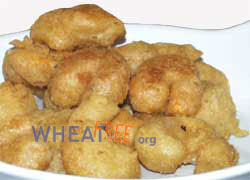 Allergy Information
| | |
| --- | --- |
| Wheat-Free | |
| Gluten-Free | |
| Nut-Free | |
| Dairy-Free | |
| Sugar-Free | |
| Vegetarian | |
| Vegan | |
Preparation time:

10 mins

Cook time:

30 mins

Total time:

40 mins

Yield:

makes 30
One of the treats we used to love (pre-wheat allergy) was going to the local Chinese takeaway and picking up crispy king prawns with sweet & sour sauce, well now it's entirely achievable once again. With the addition of rice and a sweet & sour sauce these crispy king prawns can quickly be turned into a full, and very tasty, Chinese takeaway style meal.
They are also a great finger food recipe with their crispy tempura style batter, just perfect for buffets or parties.
Although we use groundnut oil for the deep frying, if you have a nut allergy then you could substitute it for another suitable oil.
Ingredients (Measures: Metric | US)
30
[

30

]
king prawns/large shrimp, cooked, peeled & deveined
groundnut oil, for deep frying (substitute: another flavourless oil suitable for deep frying)
Please note this recipe contains groundnut oil
Directions
Dry prawns on kitchen paper, very important to do this or the batter will not stick to the prawns.
Mix gluten free flour, cornstarch and baking powder with enough water to make a fairly thick batter that will coat the prawns and not slide off.
Heat the oil until a drop of batter will sizzle and brown fairly quickly in it.
Carefully drop 6-7 batter coated prawns into the oil and allow to cook until batter has puffed up and turned golden brown, takes approximately 1½-2 minutes.
Remove cooked crispy prawns with a slotted metal spoon and place on a plate lined with several sheets of kitchen paper to drain. Keep warm in a moderate oven until all prawns are fried.

These make a wonderful addition to the buffet table or as a starter, especially if served with a selection of dips.
This recipe contains nut oil, if you want to avoid using this then simply substitute with another flavourless oil suitable for deep frying.