Barbeque food recipe
"Wheat & Gluten Free Barbeque food"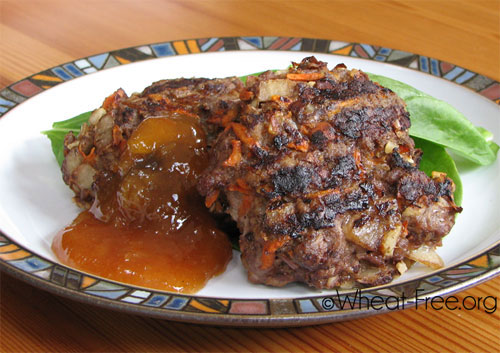 It's bar-b-que time! The hot sunny weather (in between the rain showers) just makes you want to enjoy the warmth and eat al fresco.
But bar-b-q food can be fraught with hidden wheat & gluten dangers, the biggest problem being sausages and the marinades for the meat. However if you follow our tips then you should have as enjoyable a time as everyone else, and no-one but you will know the difference.
tip #1: NEVER be tempted to put any flammable liquid onto the bar-b-que to 'get it going', the burns that can result from this type of accident are horrific, it's stupid to risk your health and spoils everyone elses day. Just stick to charring the meat, not yourself.

bar-b-que food for the grill:
chicken pieces in maple marinade (use the sauce from this recipe without the slivered almonds)

chicken pieces without marinade

sausages (make sure they are wheat & gluten free)

salmon or trout baked in foil

prawn kebabs

tip #2: Make sure that everything you cook on the bar-b-que is wheat & gluten free. Don't be tempted to think that you can 'zone' the grill, it won't work. Utensils will cross-contaminate, as will spitting fat.

bar-b-que food not requiring grill time:
leek tart (not everyone is a meat eater)

spicy chick peas (vegan friendly)
selection of cheeses

new potatoes in mayonnaise with fresh chopped herbs

salads - check any dressings are wheat & gluten free, and of course NEVER add croutons

coleslaws - check they are marked wheat & gluten free or make your own

pickles - silverskin onions, cornichons (in white wine vinegar not malt)

sauces & relishes - tomato, mustard, corn, chilli - check allergy status

olive oil or avocado oil for drizzling

balsamic vinegar

and finally, wheat bread rolls (because not everyone will appreciate gluten free versions for their burgers - see tip #3)

tip #3: Put wheat containing bread rolls on a separate table away from the rest of the food. If you put the cutlery on the same table then people will go there last, which means that they won't be bringing bread rolls to the buffet table, they'll be taking their full plates to the cutlery table where the bread rolls will also be waiting (this reduces the risk of wheat contamination).

bar-b-que desserts:
black forest trifle (retro is in)

whipped cream (keep the cream in the fridge until people are ready to eat dessert, then place the bowl into a large bowl of ice to keep it cool)


bar-b-que additional extras:
bar-b-que & charcoal (or gas bar-b-que)

utensils for cooking

oven glove to protect your hands from the heat of the bar-b-que

food (of course)

alcohol (or there'll be a mutiny)

soft drinks (not everyone's a drinker)

plates & bowls (if you use paper plates don't get the thin ones, get the more rigid versions as paper plates go very soft when hot food is put on them)

plastic glasses, cutlery & paper napkins

bucket of water for dowsing flames/hot charcoal if there's a problem (NOT for gas bar-b-ques)

suntan cream (if the sun's still out and shining)

bug candles, to help you keep the biting critters away from your food and your body once the sun goes down
and finally, have a GREAT time