New York style cheesecake recipe
"Baked cheesecake with crunchy base, rich smooth cheesecake top, and finished off with blueberry sauce"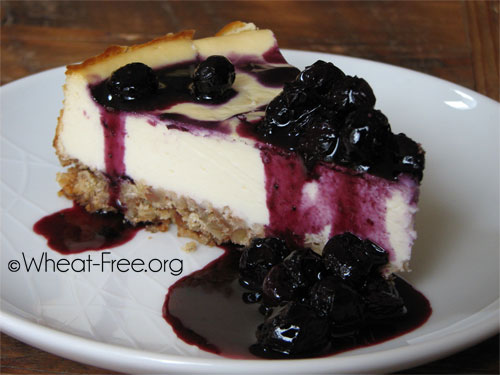 Allergy Information
| | |
| --- | --- |
| Wheat-Free | |
| Gluten-Free | |
| Nut-Free | |
| Dairy-Free | |
| Sugar-Free | |
| Vegetarian | |
| Vegan | |
Preparation time:

20 mins

Cook time:

55 mins

Total time:

1 hr 15 mins

Yield:

serves 8-10
I love cheesecake and I do think that this New York style cheesecake is very good indeed. I topped it with homemade blueberry sauce, but you could use fresh fruit, whipped cream, ice cream, the possibilities are endless.
This cheesecake recipe is best made the day before you want to eat it, or it must have at least 6 hours in the fridge, however the overnight chilling time is best as it helps it to set into a nice firm cheesecake.
Ingredients (Measures: Metric | US)
Base:
300 g
[

3 1⁄2 cups

]
crushed gluten free graham cracker style biscuits or other gluten free favourite cookie (check nut free if required for diet)
115 g
[

1⁄2 cup

]
unsalted butter, margarine or non-dairy alternative, melted (butter gives a richer taste)
Filling:
100 g
[

1⁄2 cup

]
superfine (caster) sugar
2 1⁄2 tbsp
[

2 1⁄2 tbsp

]
cornstarch (substitute: arrowroot powder)
800 g
[

3 1⁄2 cups

]
cream cheese (we used Philadephia lite)
100 ml
[

1⁄3 cup + 1 tbsp

]
double or whipping cream
1 whole
[

1 whole

]
vanilla pod, seeds only
1 whole
[

1 whole

]
organic lemon zest (non-organic lemons have waxed skins)
Topping:
200 g
[

1 1⁄3 cups

]
blueberries, fresh or frozen
1 tbsp
[

1 tbsp

]
caster sugar
Directions
For base: preheat oven: 180°C, 350°F, Gas 4
For cheesecake: increase oven temp to: 200°C, 400°F, Gas 6
Line a 23cm (9") spring release cake tin with baking parchment.
To prepare the base, mix the crushed biscuits and 3/4 of the melted butter in a bowl until the crumbs are totally moistened, if the mix appears too dry then add small amounts of extra melted butter until it looks like it will stick together, but don't make it too wet or greasy. Press into the base of the baking tin and use the back of a spoon to compress.
Bake the base for 10 minutes, remove from oven and leave to cool.
Put sugar, cornstarch and cream cheese into a bowl and beat until creamy and well combined.
Add the eggs one at a time and beat the mixture well to incorporate, then add the cream slowly, beating well. Add the vanilla seeds and lemon zest. Beat the mixture for 2-3 minutes.
Pour the mixture into the cake tin on top of the biscuit base and smooth the top. Place the cake tin on a baking tray and put in the centre of the oven for 40-45 minutes.
Make sure that the top of the cheesecake doesn't brown too much, if it is then place a small piece of foil over the top, this will help to stop it browning further.
The cheesecake will be cooked when the edges are browned and the filling is set around the edges, it will probably still be a little wobbly in the centre. DO NOT stick a toothpick in the centre to check it's cooked, as this may cause it to flop.
Remove from the oven and leave to cool in the cake tin for 1 hour, then remove the cake tin and placing in the fridge to chill, preferably overnight or for a minumum of 6 hours.
To make the blueberry sauce, put the blueberries, sugar and water into a small saucepan and heat gently. When the sugar has dissolved and made a rich looking sauce, and the blueberries are soft, then it's done. Set aside to cool.
Remove the cheesecake from the tin and serve with the blueberry sauce drizzled over the top.
This is a very tasty baked cheesecake recipe, and because we used lite cream cheese it's not as sinfully calorie laden as a full fat version. Of course if you want the extra calories you can use full fat cream cheese.