Spicy chick peas recipe
"Spicy way to serve these nutritious crunchy legumes"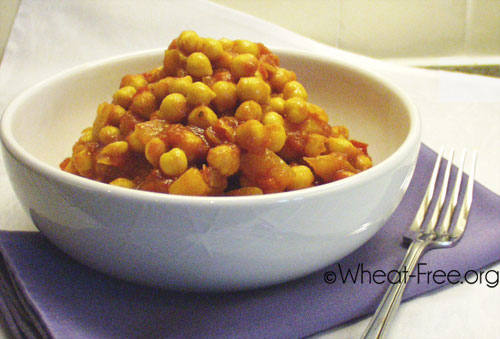 Allergy Information
| | |
| --- | --- |
| Wheat-Free | |
| Gluten-Free | |
| Nut-Free | |
| Dairy-Free | |
| Sugar-Free | |
| Vegetarian | |
| Vegan | |
Preparation time:

10 mins

Cook time:

20 mins

Total time:

30 mins

Yield:

serves 4-6
Chick peas (also known as garbanzo beans) are a nutritious legume containing zinc, folate and protein, with a nutty flavour and texture.
Well known for their use in hummous they make a very quick, easy to prepare meal if you buy them canned, perfect for vegetarian/vegan diets. Dried chick peas take longer to prepare as soaking time needs to be included and you need to start the preparation process the day before.
Ingredients (Measures: Metric | US)
1 tbsp
[

1 tbsp

]
olive oil
1 large
[

1 large

]
onion, chopped
2
[

2

]
green or red chillies, deseeded & finely chopped
2x400g cans
[

3 cups

]
chick peas, drained & rinsed
2x400g cans
[

3 1⁄2 cups

]
chopped tomatoes
freshly ground black pepper
1 tbsp
[

1 tbsp

]
lemon juice
Directions
Heat the olive oil in a large saucepan and gently sauté the chopped onion until it is softened, but not browned.
Add the chillies, cumin and turmeric and stir fry for about 30 seconds, avoid letting the spices burn.
Add the drained chick peas, chopped tomatoes and freshly ground black pepper, and simmer for approximately 10 minutes.
Add the lemon juice and cook for a further 2-3 minutes, serve immediately.
Serve with brown, wild or basmati rice, gluten free pasta, or on their own with a crisp green salad.
The spicy chick peas will store in an airtight glass container in the fridge for a couple of days, and can be reheated for a quick and nutritious snack. Make sure that if being reheated they are thoroughly hot before eating.
Note: I suggest storing this in a glass container as plastic containers will discolour from the turmeric.