The Ice Dream Cookbook – Review
This review refers to the pre-publication review copy.
As the creator of wheat-free.org and a super sensitive reactor to wheat I naturally own a very large collection of wheat free and gluten free cookbooks. Most of them follow the same format, a write up about wheat allergy or celiac disease, a list of basic what you can eat and what you can't, then a selection of recipes.
This book is different.
I liked it the moment I unwrapped it. Although it's not the glossy publication version it immediately grabbed my attention. Why? Because the format is unlike most recipe books. The recipes have snippets of other information on their pages, e.g. shopping tips, or a sidebar comment from the author. Full pages of information e.g. the basics of beating egg whites also crop up between recipes which makes a nice interlude.
The glossary of ingredients and shopping tips is one of those must-have reference points for people going wheat or gluten free. It gives helpful information about the various ingredients used in the recipes, things to look out for/avoid, and the most likely places that you will source a particular item.
An equipment section in the book covers the all important ice cream maker, what to look out for and avoid, listing favourite ice cream maker brands and alternatives. It also refers to baking pans, measuring and mixing tools, pots and pans and even baking parchment so the absolute beginner is not left wondering what they need.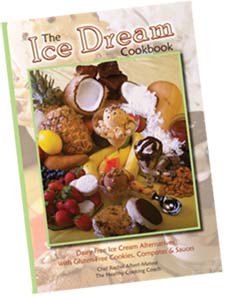 So I guess that I should talk about the recipes too.
The first recipe in the book, Vanilla Ice Dream, is also the base for several variations so seemed to be an appropriate starting point, and it couldn't be easier to make. The instructions are clear, easy to understand, and even the most kitchen disaster prone ice cream lover should be able to follow them and end up with great tasting ice cream.
But the book doesn't stop at just ice cream. There are also wheat and gluten free cakes, cookies and compotes. The Gluten Free Better Brownie is unbelievably good, rich, fudgy, chocolaty and very very moreish. If this is an indication of how good the rest of the cake and cookie recipes are going to be then I can't wait to try more.
The downside to the recipes in this book is that you can't decide that you want to eat ice cream in 30 minutes time and then start to make it. The custard style mix needs to chill in a refrigerator for at least 6 hours before churning in the ice cream maker. The cakes and cookies also require a 2 hour soaking time for the dates before baking can commence, so planning is required.
To sum up, in a world over-saturated with wheat and sugar The Ice Dream Cookbook places itself in the gluten, sugar and dairy free sector and does it extremely well. Of the recipes tried and tested by our trusty wheat free tasters the thumbs up was given every time, though no-one volunteered to make the Basil or Avocado Ice Dreams so those remain a secret yet to unfold. It is easy to recommend The Ice Dream Cookbook for anyone looking for a dessert recipe book that is wheat/gluten, sugar and dairy free.
This book is an ice cream junkies dream.
Check out the Chef Rachel's blog where you can also buy the book, get healthy recipes etc: www.thehealthycookingcoach.com