Eating GF at The Brook Inn, Washbrook, UK
Having just returned from our two-yearly-ish trip to the UK to do the family duty visits, I was sorry to say goodbye to The Brook Inn and their fantastic gluten free pub fare.
I blogged about their food two years ago after my last visit (read Great gluten free pub grub at The Brook Inn, Washbrook). At that time the brewery was selling the pub and the local community were banding together to see if they could rescue it, and keep it as a valuable resource for the village.
Well I'm very pleased to say that The Brook Inn is now a community owned free house, and boasts not only one of the most impressive gluten free menus I've seen, but has also been accredited by Coeliac UK.
On my last visit in 2013, there were menu items that someone with a wheat allergy couldn't have, for example, anything deep fried. But now the deep fat fryers are dedicated to gluten free only, and the menu is almost exclusively gluten free—one exception being the pies, which I was assured are stored very carefully to ensure no cross-contamination.
This visit however promised even greater things—gluten free fish & chips! The last time I ate fish & chips was 1999, not long before I was forced unwillingly to remove wheat from my diet. So two weeks ago you can imagine that I was almost bouncing out of my seat with excitement as I sat with menu in hand and contemplated the excitement of having fish & chips for the first time in 16 years.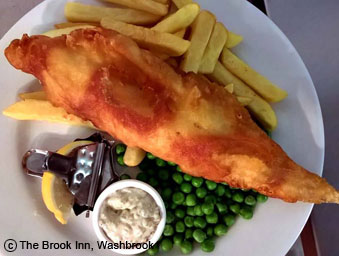 The server assured me that everything would be safe, including explaining the kitchen cross-contamination precautions. The die was cast—cod & chips it was.
When the fish & chips arrived I almost fell off my seat. The battered cod was easily 30cm long (12"), the chips were chunky, and there was even a pot of homemade tartare sauce. The first mouthful was bliss, and the second, and the third... you get the message. The photo isn't my actual meal, I stole this from The Brook Inn's website, but believe me when I say mine was even bigger and better looking. My husband and his mother couldn't get over my delight, even as they tucked into their non-gluten free steak pies—which they also raved about.
Halfway through eating the chef came out to ask how I was enjoying it because our helpful server had mentioned to him I hadn't had fish & chips in 16 years. With mouth overflowing I told him it was fantastic, and I meant it. I can't remember even having such great fish & chips pre-wheat allergy.
As you might imagine, we ate there several times during the UK visit; 5 times in 11 days, including taking a group of friends one evening which happened to be Bernie Inn inspired menu evening. That night I opted for battered plaice & chips; plaice actually being my favourite fish and seemingly not available in Alberta, Canada. Our friends, all being gluten eaters, loved every mouthful of their chosen dishes.
And desserts, how often do you see almost every dessert on the menu gluten free? On the Bernie Inn inspired night I finished the meal off with the most amazing chocolate caramel tart. If it hadn't been for our table snagging the last two pieces left I'd have ordered another. I can still remember the sheer bliss of eating it, sadly it wasn't on the dessert board again during the rest of our visits.
On our final visit as we drove back to Heathrow Chef Nigel came out for a chat with my husband (also a Nigel) while I was availing myself of the "facilities" before hitting the M25. My hubby explained that we were heading back to Canada so we'd called in for a last gluten free fortification before getting on the plane.
If you're in Suffolk, UK, then you really need to make calling in at The Brook Inn a must-do. The food is superb, the staff friendly, the pub quaint, the location delightful. The community has worked hard to make a real success of taking over the pub. By positioning themselves as a gluten free haven they have made the pub a sought after place for celiacs and non-celiacs to eat.
Although I couldn't wait to get back to our home in the Rocky Mountains, and more importantly our furry housemate, I was sad to bid goodbye to the pleasure of eating in a gluten free pub. During our 5 visits I racked up cod & chips x 2, plaice & chips x 2, and tempura king prawns x 1, plus the heavenly chocolate caramel tart. A bit of an overload on fried food, but it will probably be another 2 years before I can indulge again, and quite honestly I'm dreaming of those fish & chips already.