Kinnikinnick gluten free chocolate cake mix product review
Normally we like to make baked goods from scratch, but not everyone has the time, or the ingredients. So we thought that we would test a cake mix to see how easy it was, and how good it would taste. With school lunches needing to be kept interesting a sweet treat is always a good addition, so we chose Kinnikinnick Chocolate Cake mix, after all, who doesn't love chocolate cake?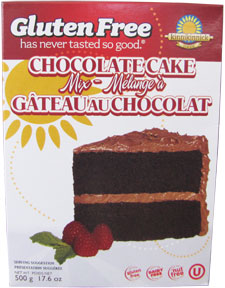 Kinnikinnick Chocolate Cake mix is gluten, dairy and nut free, as well as Kosher. The mix is produced in a dedicated gluten free, wheat free, dairy free, peanut free and tree nut free facility, however it may contain soy and eggs (but as you add eggs anyway, that's probably not quite such a worry unless you're using an egg substitute—we don't know if the mix works with egg sustitutes).
The chocolate cake mix was incredibly easy to make, just add eggs, vegetable oil, and water, whisk lightly to leave a slightly lumpy batter, then either pour into 2 cake tins or 18 muffin cups lined with paper cases.
The mix was very sticky so spooning into the muffin cases was quite entertaining; then bake at 350°F until they are springy in the centre but not dried out.
We made 12 large cupcakes and 12 mini ones (for some pint-sized tasters). The cupcakes rose beautifully, even with our altitude cooking issues, and were moist and chocolatey.
To finish off we gave each cupcake a generous swirl of either vanilla or chocolate frosting and some sprinkly bits (not photographed... the tasters did not leave any).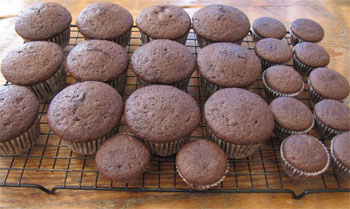 Our verdict: A really good standby for people who don't like to bake, don't have time to bake, or don't want to fiddle with lots of ingredients. Adding some frosting would finish off the cupcakes quite nicely, and would put a smile on any face finding one in their school/bagged lunch, or at the office for cupcake day. Though if you're frosting them for school lunches don't forget to put them in a crushproof container to keep them looking tasty.
For more information: www.kinnikinnick.com