Catelli® gluten free pasta product review
Pasta—one of life's staples, great source of carbs, much loved by athletes around the world... unless you're a celiac.
20 years ago gluten free pasta was just plain nasty. If a wheat allergy or celiac disease sufferer wanted to eat pasta all they had available was corn pasta; in those days it was woefully horrible tasting and crumbled to little bits, but you had to take it or leave it.
Now we have an amazing selection of wheat free/gluten free pasta on the market, some better than others, but there is choice. And as everyone has different tastes there's usually something for everyone.
Our normal "go-to" pasta is Tinkyada, they have a great selection and in all shapes and sizes. However we snagged a free sample of Catelli® Gluten Free Penne Pasta from a Gluten Free Expo to see how it stacked up in the pasta world.
Catelli® use a blend of white rice flour, brown rice flour, corn flour, quinoa flour, and monoglycerides to make their gf pasta, and it is produced in a dedicated gluten free facility—which we always love to hear. Catelli® Gluten Free Pasta has also been reviewed by The Heart and Stroke Foundation's™ dietitians and has been found to meet nutrient criteria developed by Health Check™ based on recommendations in Canada's Food Guide. Note: Manufacturer's pay a fee to Health Check™ for this, which is to help run the voluntary not-for-profit program.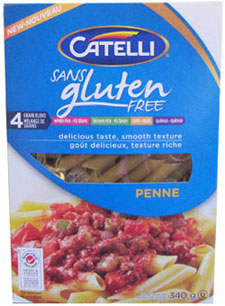 Catelli® Gluten Free Pasta is available in four alternative types:
Fusilli
Macaroni
Penne
Spaghetti
We made several batches of Penne, all with slightly different cooking times. The box suggests 8 minutes - very firm, 9 minutes - firm/al dente, and 10 minutes - tender. Unfortunately we didn't really warm to the texture on any of them, it seemed to go to a slightly mushy texture in the mouth with very little chewing. But we're probably being over picky because we are, after all, reviewing it.
What did the Penne taste like? To be honest it was a little bit bland, it just seemed to miss hitting the tastebuds. However, put a sauce or dressing on it and of course that issue is resolved.
Things we liked; it was very quick to cook, and we always like to see a very short ingredient list—in this case just 5 items, and no added salt or sugar. It also reheats well, a quick blast in the microwave and it works great for leftovers. It's also stable enough to make a cold pasta salad for a bagged lunch, so you won't end up with a pasta scramble in your lunchbox.
The price is a bit steep however, Cdn$3.49 for a 340g box.
So, to sum up, the Penne pasta is good, and many people are going to love it. We haven't tried the other types as they have yet to make it onto shelves in our locality.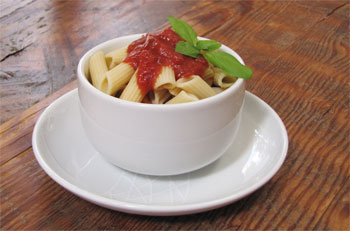 Nutrition info per 1 cup (85g): 310 calories, 2g total fat, 0.5g sat fat, 0g trans fat, 66g total carb, 3g fibre, 0g sugars, 6g protein, 0mg cholesterol, 0mg sodium.
For more information: www.catelli.ca/pasta/gluten-free