Udi's Gluten Free Margherita Pizza product review
For those wheat & gluten free pizza lovers who don't have time to make their own pizza crust, top it, and bake it, there are many commercially produced gluten free pizzas available to take the strain out of pizza night.
We tried Udi's Gluten Free Margherita Pizza to see how it fared as a home movie night treat.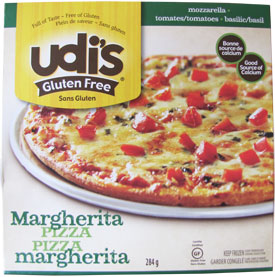 We cooked the pizza exactly as specified in the instructions, but ended up giving it an extra 2 minutes in the oven as the edges weren't really golden brown after 12 minutes. Leaving it to stand for 5 minutes before eating, as recommended, didn't really work that well because after 5 minutes it was only warm, not piping hot, and the centre section of the base had gone a bit soft. The toppings also seemed a bit mean when compared to the photo on the box.
On to the taste test. The tomato sauce was very flavourful, and while the first mouthful was a little overpowering the tastebuds soon appreciated its full flavour. The base tasted great, quite possibly the best tasting base we've tried on a commercially produced gluten free pizza. Mr Wheat-Free.org loved it all, and wolfed down his share with extreme pleasure, disappointed that there wasn't another one cooked.
There are also alternative flavours available:
Three Cheese
Spinach & Feta
Uncured Pepperoni
Plain pizza crusts (to top yourself)
One small criticism would be that we like food items to fill the box they are in, and as you can see from the photo, the pizza comes up a bit short of box filling. Why not just reduce the size of the packaging to accommodate the actual size of the pizza, to avoid disappointment.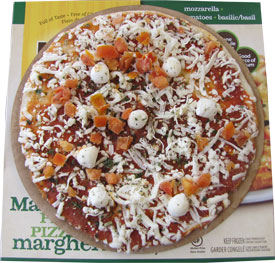 In summary, we thought this was a good pizza, with a great tasting base. We'd have liked it to have looked a bit more like the picture on the packaging, but as everyone knows, food photos reproduced in the studio never resemble the actual item home cooked.
Would we buy this pizza again? Yes, we really liked its flavour, and great tasting base, though we would reduce the standing time after cooking, as we like our pizza topping "roof of mouth welding" hot.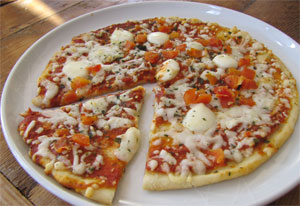 Nutrition info per 1/2 pizza (142g): 280 calories, 11g total fat, 5g sat fat, 0g trans fat, 37g total carb, 2g fibre, 3g sugars, 9g protein, 25mg cholesterol, 320mg sodium.
For more information: www.udisglutenfree.com