Glutenfreeda Instant Oatmeal Cup Product Review - Cranberry Apple with Walnuts & Cinnamon
It's not always easy or convenient to prepare or pack up a breakfast, especially on those really busy mornings where everyone, including the cat, needs extra attention. Sometimes it's great to just be able to grab something quick, so with that in mind we decided to try Glutenfreeda's Instant Oatmeal Cup in Cranberry Apple with Walnuts & Cinnamon.
All you need is boiling water and a spoon and you have the equipment to make this breakfast. Its portability makes it perfect to stick in your bag for after that early morning gym visit, or a mid-morning home or office pick-me-up. And next time I fly one of these is definitely going in my carry-on bag as an alternative to the normally dire airline gluten free food offerings.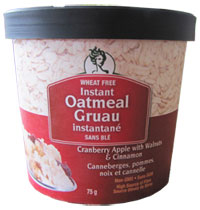 All you need to do is remove the lid, peel off the inner seal, and pour in enough water to the fill line. Put the lid back on and leave for 2-3 minutes, then remove the lid, give it a good stir, take a deep breath of its mouthwatering aroma, and dive in with your spoon to enjoy the hot oatmeal. Note: Microwaving is not recommended.
Now to the general blurb which refers to the product available in Canada , though still proudly made in the USA. The oatmeal cups are made with pure uncontaminated oats, and the packaging is clearly marked "wheat free", despite no reference to "gluten free" on the Canadian packaging they are also gluten free. [Read Glutenfreeda's explanation why the packaging differences].
Glutenfreeda Instant Oatmeal Cups come in four flavours:
Cranberry Apple with Walnuts & Cinnamon
Blueberries, Strawberries & Brown Sugar
Brown Sugar & Flax
Golden & Brown Raisins with Almonds
The oatmeal cups contain no GMO's, no cholesterol, but do contain a healthy portion of fibre at 6g per serving.
Nutrition info per Cranberry Apple oatmeal cup: 300 calories, 8g total fat, 1g sat fat, 0g trans fat, 49g total carb, 6g fibre, 16g sugars, 8g protein, 0mg cholesterol, 125mg sodium.
So how to summarise Glutenfreeda Instant Oatmeal Cup in Cranberry Apple with Walnuts & Cinnamon? The short answer is... delicious. It reminded me of eating a hot baked apple stuffed with nuts, cranberries and cinnamon. I'm not used to eating sugar in my oatmeal, so it was a bit on the sweet side, but it made a really tasty breakfast. Just boil, pour, stand, sniff, eat.