Sobeys Compliments Gluten Free Hot Cross Buns product review
With Easter just days away, you can't fail to notice the proliferation of Hot Cross Buns on the supermarket shelves, all of them containing wheat/gluten. But, hold on there, new gluten free buns on the block from Sobeys are making their presence known, and getting wheat free and celiac shoppers excited.
Four to a pack, these high fibre buns are soft to the touch, and look very appetising as well as a generous size, that should mean one is enough... yeah, right, once they're toasted with butter melting into them, and their spicy aroma tingling the taste buds, who's going to stop at one?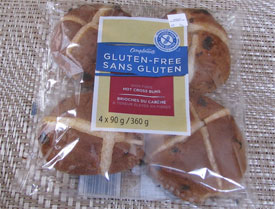 We tried them cold, straight from the packet. They smelt and tasted really good, making them an ideal bagged lunch treat with a little butter and maybe some apricot jam. Then we tried them toasted. It's hard to put into words just how mouthwatering they smelt once they were hot, but there was plenty of drooling going on in the wheat-free kitchen.
Inspecting the ingredients list there are a couple of items that needed Googling, like hydroxypropyl methylcellulose, which turns out to be very useful as an opthalmic lubricant, but is also used in foods as a gelling agent. And cellulose powder and gum, which have roles such as inactive fillers, thickeners, stabilisers, anti-caking agents, however they are commonly used in food production. And, as they say, you can't make omelettes without breaking eggs, so some items you wouldn't normally use in home baking will appear in commercial baking.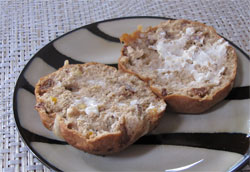 From a calorie point of view they're not top heavy, in fact substituting one of these for your morning muffin would probably leave you in credit for a few calories, especially if you avoided the butter. We also froze some to see how they tasted after defrosting, and they were still soft and tasty.
So after all the Hot Cross Buns had been dispatched what was our verdict? We loved 'em. They were soft, spicy, and very palatable hot or cold. We even ate one with some aged cheddar, and very nice it was too.
If you're looking for gluten free Hot Cross Buns, then Sobeys Compliments buns are easy to recommend. We would also recommend that you buy more than one bag, as four buns just won't be enough.
Nutrition info per 1 Hot X Bun (90g): 260 calories, 7g total fat, 0.5g sat fat, 0g trans fat, 46g total carb, 9g fibre, 12g sugars, 3g protein, 0mg cholesterol, 460mg sodium.