Sobeys Compliments range gluten free quinoa cookies review
Apologies if you're not in Canada... Never one to pass up a new wheat/gluten free sweet treat on the shelves, it was a pleasure to see the new items in the Sobeys Compliments gluten free range on display at my local store.
Obviously I'm going to have to try everything out of curiosity, but the first item to go in the shopping basket was a box of Quinoa Cookies.
The cookies have the Canadian Celiac Associations seal of approval, which also includes bread, muffins, cake mixes, flour, rolls, hot cross buns and pasta. All carrying the CCA seal of approval too.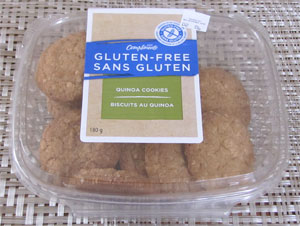 The only concern in my mind was whether the items, which were on display in the bakery section, are packaged in a gluten free facility, or in-store, where the risk of cross-contamination is an almost certainty.
I contacted Sobeys to ask whether they packaged in a safe gluten free environment, or packaged in-store. And if packaged in-store, what precautions are taken to avoid gluten contamination, e.g. from the bakery area.

Sobeys responded superquick with this answer: "The Compliments line of gluten free products are made and packaged at facilities that are audited to ensure that there is no cross contamination of these products with gluten. In fact they are certified by the Gluten-Free Certification Program to reassure consumers that these products are safe and truly gluten free. For more information on this certification process please do visit www.glutenfreecertification.ca."
With that issue settled it was time to give the quinoa cookies the taste test.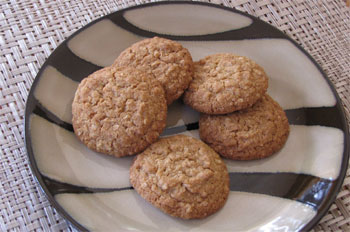 There were a dozen in the box, though by the time I got around to taking a photo, only 5 were left... ooops!
So, how did they taste? Great! They were crunchy with a rich taste that had notes of quinoa, brown sugar, and cinnamon. Very moreish would be the best way to describe them, as proven by the disapperance of so many before the photo was taken.
I did have a concern with the ingredients list. One of the ingredients listed is 'flavour'. So what actual flavour, or where derived from? One of my bugbears is generic names in ingredients lists, does the lack of detail mean it's something we wouldn't be happy eating? I believe transparency should be required for all ingredients.
The only other issue was that they contain a tiny amount of trans fat, surely it's not necessary to have trans fats in a brand new food item. Trans fats are, after all, considered dinosaurs now.
To summarise, these were good cookies, about on par for price with other gluten free cookies, and they definitely provided the satisfying crunch and mouthfeel that makes a cookie a cookie. Would I buy these again? Yes, however as I don't eat cookies every day I would have to make them an indulgent treat, the problem being that an open cookie box is a rapidly empty cookie box. [02/06/2014 Author's note: I did buy more, how many are left? As a hint, the answer is less than 1]
Cost: $3.99 + GST.
Nutritional info per 2 cookies (30g): 140 calories, 7g total fat, 3g saturated fat, 0.1g trans fat, 10mg cholesterol, 120mg sodium, 20g total carbohydrate, 1g fibre, 9g sugars, 1g protein.
For more info on the Sobeys Compliments Gluten-Free range checkout: www.sobeys.ca
Addendum 02/06/2014, Sobeys have added the following information:
Sobeys wrote: "Hello, and thanks so much for sharing your review! We'd like to share some information with you that you might find useful based on your comments. Regarding trans fats, this is not being added to the cookies. Indeed, the transfats are naturally present in the shortening that is used. The shortening is very low in trans fat but may show up on the nutrition panel depending on amount used in recipe and serving size. If the serving size were for 1 cookie ( trans fat would have been 0) But as it is a larger serving size you are seeing a small amount declared. For the Flavour, while we do not disclose the ingredients as it is our secret as to what differentiates our cookie from others on the market it might be helpful to note that it is an all natural flavour (no scary ingredients). Hope this helps, and we're glad that you enjoyed them!"