A tale of two gluten free desserts
It may not have escaped the notice of users of the Wheat-Free.org website that desserts are a favourite in the wheat-free kitchen. As a result we usually get asked to provide dessert when invited out to dinner or parties.
Here is a cautionary tale about the power of chocolate.
Last year we made a Cranberry Mousse dessert for a Christmas party that was going to be attended by approximately 50 guests. We sprinkled the top with grated chocolate and felt that it was sure to be a hit with its festive colour.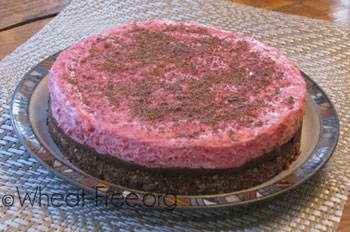 However the rest of the dessert table was weighed down with many Chocolate Yule Logs. Seriously, I've never seen so many in one private gathering, obviously for Christmas 2012 Yule Logs were "in".
Disappointingly the Yule Logs were decimated, and the Cranberry Mousse dessert remained just a third eaten, despite everyone who did try it complimenting its flavours and asking for the recipe.
This year it seemed like the ideal time to try an experiment, the same dessert with one sneaky difference... chocolate frosting on top.
You can see where I'm going with this can't you.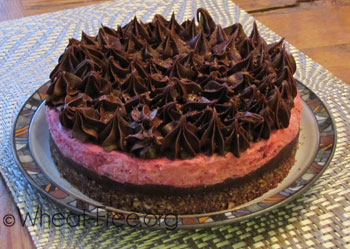 There were many "ooooh's" and "aaaah's" when it was placed on the dessert table, and people were not hesitant to tuck in.
The tangy cranberry mousse was working well with the chocolate frosting, and the all important looks were obviously enhanced by its addition. By the time we left there was just under a third remaining, and people were still milling around for second helpings of any desserts left. I therefore had hopes of its total demise, and the wheat-free kitchen's dessert honour reinstated.
So the moral is, for Christmas parties chocolate is king. Stick a chocolate topping on it and it will be sure to draw eager dessert hounds... there were, however, no Chocolate Yule Logs this year.