Chocolate cranberry mousse pie recipe
"Try something different with cranberries, this tangy dessert is sure to please"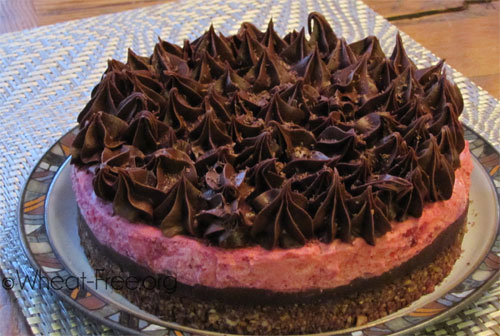 Allergy Information
| | |
| --- | --- |
| Wheat-Free | |
| Gluten-Free | |
| Nut-Free | |
| Dairy-Free | |
| Sugar-Free | |
| Vegetarian | |
| Vegan | |
Preparation time:

2 hrs

Yield:

serves 12+
Cranberries are good for more than just making cranberry sauce (see Cranberry food facts). This mousse style dessert is light and tangy, and works well with the coconut chocolate base layer and chocolate frosting—for a special dessert you can never have enough chocolate.
This dessert requires at least 6 hours chilling/setting time once the cranberry mousse has been put on top of the base. So it does take a while to make as there are four layers to prepare, each layer requiring a cool/set previous layer. It's not a dessert that can be made at the last minute, but we hope you'll agree that it's really worth the effort when it comes round to tasting time.
I also have a blog about this dessert, A tale of two gluten free desserts.
Ingredients (Measures: Metric | US)
Base
300g
[

2 cups

]
mixed nuts, coarsely ground
50g
[

1⁄4 cup

]
superfine/caster sugar
1 tbsp
[

1 tbsp

]
raw cacao powder (substitute: unsweetened cocoa powder)
1 tsp
[

1 tsp

]
ground ginger
75g
[

1⁄3 cup

]
butter, melted
Chocolate ganache
125g
[

3⁄4 cup

]
70% dark chocolate
4 tbsp
[

4 tbsp

]
coconut milk
Cranberry mousse
50g
[

1⁄4 cup

]
superfine/caster sugar
80ml
[

1⁄3 cup

]
orange juice
1 whole
[

1 whole

]
organic orange zest (non-organic have waxed skins)
1 tsp
[

1 tsp

]
ground ginger
1 tbsp
[

1 tbsp

]
orange juice
250ml
[

1 cup

]
whipping cream
2 tbsp
[

2 tbsp

]
superfine/caster sugar
Chocolate frosting
360g
[

3 cups

]
confectioner's/icing sugar
30g
[

1⁄3 cup

]
raw cacao powder (substitute: unsweetened cocoa powder)
60ml
[

1⁄4 cup

]
coconut milk (substitute: whipping cream)
1 tsp
[

1 tsp

]
vanilla extract
1 tbsp
[

1 tbsp

]
grated chocolate for decoration (optional)
Please note this recipe contains nuts
Directions
Preheat oven: 170°C, 325°F, Gas 3
Line a 20cm (8") diameter springform tin with non-stick baking paper.
To make the base put the nuts, sugar, cacao and ginger into a bowl and mix well, add 3/4 of the melted butter and mix until all the particles are moistened, if it's too dry then add the remaining melted butter as needed.
Press the nut mixture into the base of the prepared tin and bake for 15 minutes, then remove from the oven and allow to cool completely.
Break the chocolate into pieces (or use chocolate chips)and melt using either the bain marie method (see how to melt chocolate), or gentle bursts in the microwave. Ensure that all the chocolate has melted, remove from the heat and set aside to cool slightly then stir in the coconut milk.
Spread the chocolate mixture over the cooled base and allow it to set.
Put the agar powder in a small bowl with 1 tbsp orange juice and leave to soften while you prepare the cranberries.
Put the cranberries, sugar, orange juice, orange zest and ginger in a saucepan and bring to the boil, stirring regularly to avoid burning or sticking. Then lower the heat and simmer for 10-15 minutes, until the cranberries have softened, burst, and made a sort of jam like consistency.
Drizzle the agar orange juice mix into the cranberries and stir to mix well, keeping it on a low heat to allow it to warm and activate the agar, stir continuously. Set aside to cool.
Place the whipping cream into a large bowl with the 2 tbsp sugar and whisk until very stiff.
Fold the stiffly whipped cream into the cranberry mix.
Pour the cranberry mousse onto the prepared base and return to the fridge for at least 6 hours, or preferably overnight, leave the frosting until at least 6 hours have passed and the mousse has set.
To make the frosting cream the butter, coconut milk and vanilla together to make a smooth paste, gradually add the sifted confectioner's sugar and cacao powder, and beat to make a light, whipped frosting.
Put the frosting into a piping bag with a large nozzle, and pipe rosettes (or any other pattern) over the top of the cranberry mousse, sprinkle with the optional grated chocolate and return to the fridge to chill the frosting.
If you don't have the time to make the chocolate frosting then use a wheat/gluten free ready made chocolate frosting instead.
This recipe was adapted from Living Without magazine, Dec/Jan 2012, Cranberry Mousse Pie recipe.