Celiac friendly Halloween chocolate from Endangered Species
Halloween is a time for kids to have fun... and some parents to sweat with worry over food allergy issues. While there are now Halloween packs for sale proudly emblazoned "nut free" which is absolutely great, we still need some progress on gluten free.
With parents of wheat allergy or celiac children having to doublecheck Halloween swag before consumption and swap out the forbidden items, it's often not quite as much fun for kids to lose their bag of cute little bite size treats and get them swapped for items—often full size—that are known to be safe.
As a big kid, Halloween lover, and chocolate addict I can testify to just how alluring the snack size treats are, and how disappointing it is to not be able to eat them. But usually the ingredients lists are so small they can't be read without an industrial strength magnifier. And as we're all aware, different countries can use different ingredient sources for the same items, e.g. glucose (corn derived) while the same product in another country may use glucose (wheat derived).
Imagine my delight to go into our local health food store this weekend and find that Endangered Species, who not only make small 40g (1.4 oz) bars of their awesome certified gluten free chocolate, also do bags of bite size 10g (.35 oz) bars too. These to my mind are absolutely perfect to use for swapping out the Halloween treats that are forbidden, and replacing with these tasty mini chocolate bars.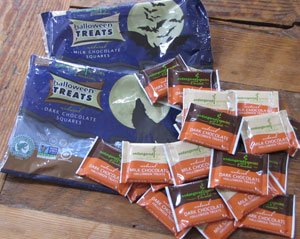 They come in dark or milk chocolate, dark chocolate with cranberries & almonds, dark chocolate with mint, dark chocolate Chimp Mints, and dark or milk Bug Bites. The Bug Bites include an educational insect trading card.
You can also feel good about buying Endangered Species chocolate because it is sourced from ethically traded cacao farms, ensuring fair trade, responsible labour practices and sustainable farming, as well as non-GMO verified. Plus Endangered Species donates 10% of net profits to organizations supporting species conservation, habitat preservation, and humanitarian efforts.
The bars work out a little pricey if you're thinking of distributing them to all the neighbourhood ghouls knocking on the door, but use them to swap out your own witch or wizard's swag and it's easier to justify the cost, especially when allergy safety is considered. Plus the pleasure that your kids will still be able to get from their "safe" Halloween swag bag is probably priceless.