Smoked fish pie recipe
"Stuffed with cod, haddock and shrimp in a cheese sauce and topped with crispy mashed potato"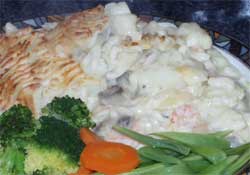 Allergy Information
| | |
| --- | --- |
| Wheat-Free | |
| Gluten-Free | |
| Nut-Free | |
| Dairy-Free | |
| Sugar-Free | |
| Vegetarian | |
| Vegan | |
Preparation time:

30 mins

Cook time:

40 mins

Total time:

1 hr 10 mins

Yield:

serves 2-3
Another comfort food recipe. This smoked fish pie is stuffed with cod, haddock and prawns in a cheese sauce, and topped with crispy mashed potato.
If you don't like goats cheddar then substitute ordinary cows milk cheddar.
Ingredients
275g
[

275g

]
smoked cod fillet
275g
[

275g

]
haddock fillet
100g
[

100g

]
prawns or shrimp (if the shrimp are large, cut them in two)
100g
[

100g

]
mushrooms, sliced
400 ml
[

400 ml

]
semi-skimmed milk
75g
[

75g

]
goats cheddar, grated
1 tsp
[

1 tsp

]
gluten free english or dijon mustard
freshly ground black pepper
mashed potato (with NO milk added, just margarine or butter & seasoning)
Directions
Preheat oven: 200°C, 400°F, Gas 6
Put the uncooked cod and haddock into a saucepan and cover with the milk. Bring to the boil then gently simmer for 15 minutes until the fish flakes easily. When cooked remove the fish with a slotted spoon and put aside to cool slightly, reserve the fish flavoured milk.
In a saucepan using 2-3 tablespoons of the reserved milk, mix the cornflour until smooth. Gently heat and slowly add approximately ¾ of the milk, stirring continously to keep the sauce smooth. When thickened add the cheese, mustard and freshly ground black pepper and stir thoroughly.
Remove the fish from it's skin by gently taking flakes of flesh, and removing any bones. Put into a bowl, add the prawns and gently mix together. Place the mixture into an ovenproof dish.
Sprinkle the mushrooms over the top of the fish, then cover generously with the cheese sauce.
Spread the mashed potato over the top, making sure the potato seals to the edges of the dish, and then using a fork rake the top of the potato to help it go crispy.
Bake on the top shelf for 35-40 minutes if using a deep dish, or 30 minutes if using a shallow dish.