Blueberry muffins - sugar & dairy free recipe
"Fresh blueberries make these wheat, gluten, dairy, and sugar free muffins a healthy treat for anytime of the day"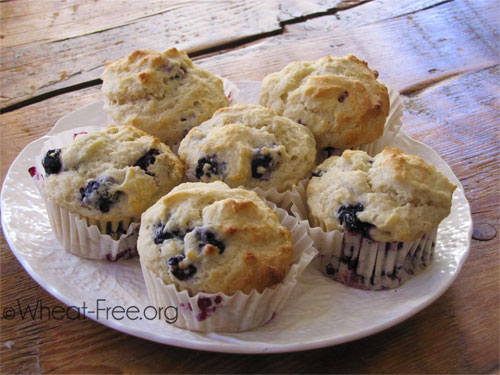 Allergy Information
| | |
| --- | --- |
| Wheat-Free | |
| Gluten-Free | |
| Nut-Free | |
| Dairy-Free | |
| Sugar-Free | |
| Vegetarian | |
| Vegan | |
Preparation time:

10 mins

Cook time:

33 mins

Total time:

43 mins

Yield:

makes 12
Although blueberries are generally available year round, it's the summer when the absolute best blueberries are in the shops and markets. These plump blue fruit have a relatively low caloric value, and a low glycemic load—which makes them a good choice for a snack anytime.
Blueberries also make the best muffins, and in these sugar free muffins you can't notice the missing sugar because of the blueberries luscious taste. I make these muffins almost every week because my husband can't eat sugar post-cancer, but he can cope with a little natural sugars, so this recipe makes the perfect sweet treat for him without any processed sugar.
They won't brown as much as the sugar-containing version, but at just 163 calories per muffin they won't break the calorie bank either—doesn't that make you feel good about a bit of sweet indulgence?
We also have a low-sugar gluten free Blueberry muffin recipe.
Ingredients (Measures: Metric | US)
100g
[

1⁄3 cup + 2 tbsp

]
dairy-free butter or margarine (we used Becel Vegan)
20g
[

1⁄4 cup

]
unsweetened shredded/dessicated coconut
3 single serve packets
[

3 single serve packets

]
stevia
1⁄2 tsp
[

1⁄2 tsp

]
grated organic lemon zest (non-organic lemons have waxed skins, if we don't have a fresh lemon we use True Lemon Crystallized Lemon)
3 large
[

3 large

]
eggs, beaten
1 tsp
[

1 tsp

]
vanilla extract
50g
[

1⁄3 cup

]
potato flour
375ml
[

1 1⁄2 cup

]
non-dairy milk (we used Silk Almond Unsweetened Vanilla, if you use a non-nut milk they will be nut-free too)
150g
[

1 cup

]
fresh blueberries, rinsed and thoroughly dried
Directions
Preheat oven: 180°C, 350°F, Gas 4
Line a muffin tray with 12 muffin cases.
Put dairy-free butter, coconut, stevia, and lemon zest into a mixing bowl and beat with a wooden spoon until light and fluffy.
Pour in the beaten eggs and vanilla and beat the mixture to combine the ingredients—it will look a bit curdled but this does not cause a problem.
Add the brown rice and potato flours, xanthan gum, baking powder, and dairy-free milk; mix well until it looks like a smooth batter, but don't overmix.
Add the blueberries and gently fold them into the mixture.
Spoon the mixture equally into 12 muffin cases.
Bake in the centre of the oven for 30-35 minutes. At the end of 30 minutes test by inserting a toothpick into the centre of a couple of muffins, if it comes out clean the muffins are cooked.
Cool the muffins on a baking rack; when cold they can be stored in an airtight container in the fridge for up to 3 days. They also freeze really well.
Typical nutrition per muffin (1/12): 163 calories, 10g total fat, 2g saturated fat, 0g trans fat, 17g carbohydrate, 2g fibre, 2g sugars, 3g protein, 141mg sodium