Granola recipe
"Make your own granola with storecupboard ingredients, this recipe rocks breakfast with yogurt and fresh fruit"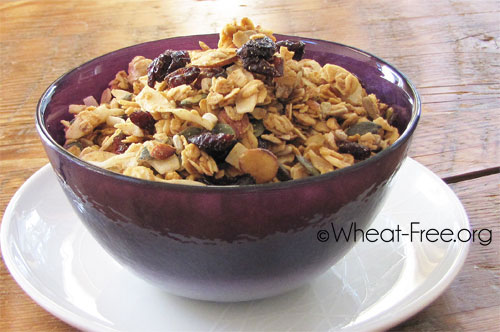 Allergy Information
| | |
| --- | --- |
| Wheat-Free | |
| Gluten-Free | |
| Nut-Free | |
| Dairy-Free | |
| Sugar-Free | |
| Vegetarian | |
| Vegan | |
Preparation time:

15 mins

Cook time:

2 hrs

Total time:

2 hrs 15 mins

Yield:

makes approx 900g/7 cups
We love the nutty, crunchiness of this granola, and the best thing is that it's made from natural ingredients, even the almond butter is made purely from almonds with no additives. If you love granola, then after you've tried this recipe you'll find that store bought wheat free granola just won't taste the same.
This granola is not only good for breakfast, but it's also great to grab a handful when you want a small snack, or to make your own trail mix or granola bars. Our favourite breakfast combination is with fresh fruit and greek yogurt.
Important note: even using certified gluten free oats it may not be suitable for all celiacs, as some are very sensitive to avenin contained in the oats, see our oats FAQ for more info.
Ingredients (Measures: Metric | US)
80g
[

1⁄2 cup

]
sunflower seeds
85g
[

1 cup

]
shredded coconut, sweetened or unsweetened depending on taste
60g
[

1⁄2 cup

]
slivered almonds (substitute: whole almonds or mixed nuts, roughly chopped)
70g
[

1⁄2 cup

]
pumpkin seeds
30g
[

1⁄4 cup

]
pecans, broken
30g
[

1⁄4 cup

]
walnut pieces
80ml
[

1⁄3 cup

]
honey (substitute: agave nectar)
80ml
[

1⁄3 cup

]
maple syrup
85g
[

1⁄3 cup

]
almond butter, smooth or crunchy (substitute: any nut butter)
2 tbsp
[

2 tbsp

]
coconut oil (substitute: sunflower oil)
130g
[

1 cup

]
dried
cranberries
or other dried fruit of choice
Directions

Preheat oven: 120°C, fan 100°C, 250°F, Gas ½
In a large bowl mix the oats, sunflower seeds, coconut and nuts together. Make sure that they are well mixed. DO NOT add the dried cranberries or any other dried fruit because after 2 hours in the oven they will come out like glass nuggets (from experience... we almost broke some teeth on our first batch).
In a small saucepan mix together the oil, honey, maple syrup and almond butter. Melt over a gentle heat until the mixture is well combined.
Pour the liquid over the dry ingredients and mix well together.
Pour the entire mix into a large roaster and gently spread about, do not compress the mixture as you want it to end up as nuggets, not one solid baked mass.
Put in the centre of the oven for 2 hours. After the first 30 minutes have passed, take the mix out of the oven and very gently stir. Put back into the oven for the remaining 90 minutes. NOTE: If you want larger nuggets of granola, stir it less and more gently, to avoid breaking it up too much.
When the cooking time is completed remove from the oven and leave in the roaster until the granola is completely cold.
Once the granola is completely cold, add the dried cranberries or any other dried fruit and mix together. Place in an airtight container for storage.
Typical nutrition per 30g (1/4 cup): 170 calories, 10g total fat, 3g saturated fat, 0g trans fat, 18g carbohydrate, 3g fibre, 9g sugars, 4g protein, 3mg sodium
You can ring the changes for taste by mixing and matching other ingredients, for example: Incan berries, sesame seeds, chia, soy nuts, hemp seeds or any other dried fruit. This recipe is so versatile that you can add different dry ingredients depending on what's in your store cupboard at the time.
Many thanks to Brenda Martin in Alberta, Canada for taking the time to share this wonderful recipe with us.