Christmas/Wedding fruit cake recipe
"Wheat, gluten, egg, & processed sugar free Christmas/Wedding fruit cake recipe"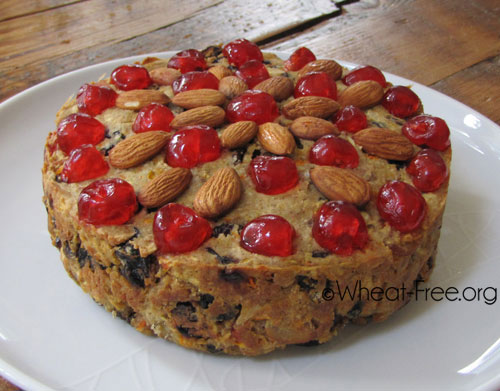 Allergy Information
| | |
| --- | --- |
| Wheat-Free | |
| Gluten-Free | |
| Nut-Free | |
| Dairy-Free | |
| Sugar-Free | |
| Vegetarian | |
| Vegan | |
Preparation time:

1 hr

Cook time:

1 hr

Total time:

2 hrs

Yield:

serves 10-12
This fruit cake is gluten, dairy, egg, and processed sugar free. It also tastes fantastic. When I was growing up I hated fruit cakes with all that nasty candied peel; this fruit cake doesn't contain any so it's a real favourite of mine.
You can use this fruit cake recipe for a gluten free Christmas cake, wedding cake, or more formal birthday cake. If you want to cover it with fondant icing and decorate, then simply leave the almonds and glacé cherries off the top before baking.
If the gluten free flour mix you are using doesn't contain xanthan gum or guar gum then you will need to add 1½ tsp to the mix.
The amazing thing about this fruit cake is that although it doesn't contain eggs it still binds together really well and doesn't crumble. It also has a lovely spicy smell and taste, and is bursting with plump, juicy fruits. It's important to note that as it doesn't contain sugar it can't be made too far in advance of when required.
I recommend that you keep this fruit cake in the fridge in an airtight container. It also freezes well, either wrap the entire cake in several layers of baking parchment or wax paper, then seal into an airtight container or double bagged freezer bag. Or cut it into slices and freeze individually wrapped pieces, which makes it easy for retrieving a piece for a bagged lunch or afternoon snack.
Note: I haven't labelled this cake vegetarian/vegan as the dye used in some brands of red glacé cherries is not vegetable based, see Cochineal. But it is possible to source vegetarian/vegan red glacé cherries or simply choose natural glacé cherries that aren't dyed bright red.
Ingredients (Measures: Metric | US)
150 ml
[

1 cup + 2 tbsp

]
orange juice (you can substitute 1tbsp orange juice with 1tbsp rum or brandy)
2 tsp
[

2 tsp

]
dried yeast
160 g
[

1 cup

]
gluten free flour (must contain
xanthan gum
or
guar gum
in mix, if not then add 1½ tsp of either)
1 tsp
[

1 tsp

]
ground allspice
1⁄2 tsp
[

1⁄2 tsp

]
ground ginger
1⁄2 tsp
[

1⁄2 tsp

]
ground cinnamon
1⁄2 tsp
[

1⁄2 tsp

]
grated nutmeg
75 g
[

¾ cup

]
ground almonds
3 tbsp
[

3 tbsp

]
coconut oil, melted (substitute: light olive oil - not regular olive oil)
1 med.
[

1 med.

]
apple, cored, unpeeled, coarsely chopped
60 g
[

½ cup

]
carrot, cleaned, grated
225 g
[

1 + 2⁄3 cup

]
mixed dried fruit, chopped (we used raisins, cranberries & bing cherries)
50 g
[

1⁄3 cup

]
glacé cherries, halved
25 g
[

¼ cup

]
slivered almonds
20 g
[

¼ cup

]
dried shredded coconut
1
[

1

]
organic orange zest(non-organic have waxed skins)
1
[

1

]
organic lemon zest (non-organic have waxed skins)
whole almonds for decoration (optional)
glacé cherries, halved, for decoration (optional)
Please note this recipe contains nuts
Directions
Preheat oven: 180°C, 350°F, Gas 4
Line an 18cm/7" round cake tin with baking parchment.
Sift the gluten free flour and spices into a large mixing bowl, stir in the ground almonds and mix well.
Add the dried fruit, glacé cherries, slivered almonds, coconut and orange & lemon zests, and stir to coat in the flour mix. [Note: my grandmother always used to coat her dried fruit in the flour mix before adding the wet ingredients, this helps to ensure that the fruit doesn't all sink to the bottom of the cake.]
Warm the orange juice in a saucepan over a gentle heat or microwave for a few seconds, when the orange juice is lukewarm sprinkle the yeast over it, leave for a few minutes.
Put the coarsely chopped apple into a food processor and chop it into small pieces, but not puréed, it still needs to look like small apple pieces.
Add the chopped apple, grated carrot and coconut oil to the flour mix and stir lightly.
Add the orange juice/yeast mix to the other ingredients and stir until well combined, making sure no flour mix is left unincorporated. The mixture will be quite thick and a bit dry looking.
Spoon the cake mix into the prepared cake tin, level the top, and decorate the top with the optional whole almonds and glacé cherries.
Bake for 1 hour or until a toothpick inserted into the centre of the cake comes out clean. If the cherries are getting too brown, cover the top with a small piece of foil.
When cooked, remove cake from oven and leave in tin to cool.
Once cake is cool remove from the tin, make sure that the cake is completely cold before storing or cutting, then store in a baking paper lined airtight container in the fridge. Can also be frozen with very good results.