Blueberry muffins recipe
"Low in sugar, high in luscious blueberries, these muffins are a sweet treat you don't need to feel guilty about"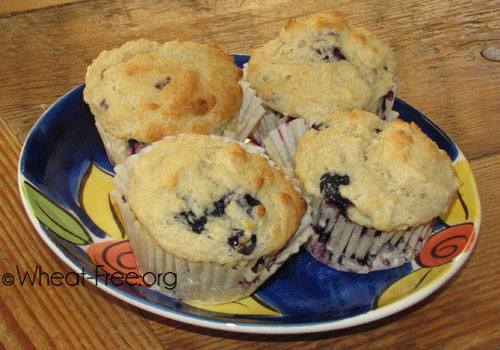 Allergy Information
| | |
| --- | --- |
| Wheat-Free | |
| Gluten-Free | |
| Nut-Free | |
| Dairy-Free | |
| Sugar-Free | |
| Vegetarian | |
| Vegan | |
Preparation time:

20 mins

Cook time:

25 mins

Total time:

45 mins

Yield:

makes 6 large
Nearly everyone loves muffins, and these blueberry muffins are just bursting with juicy blueberries. Quick to make, you can have warm blueberry muffins straight from the oven for brunch, or afternoon treat, in just 45 minutes including cooking time.
Ingredients (Measures: Metric | US)
45g
[

1⁄3 cup

]
tapioca flour
45g
[

1⁄4 cup + 1 tsp

]
potato flour
1⁄2 tsp
[

1⁄2 tsp

]
unflavoured vegetarian gelatine (we used Agar flakes)
30g
[

2 rounded tbsp

]
sugar
1⁄2 tsp
[

1⁄2 tsp

]
grated organic lemon peel (non-organic lemons have waxed skins)
1
[

1⁄2 cup

]
dessert apple, peeled, chopped and cooked with 1 tbsp water, then mashed to a purée (or use 125ml [1/2 cup] unsweetened readymade apple purée)
1 large
[

1 large

]
egg, beaten
4 tsp
[

4 tsp

]
light olive oil or flavourless oil
100ml
[

1⁄4 cup + 2 tbsp

]
milk (substitute: almond, rice, soy milks)
1⁄4 tsp
[

1⁄4 tsp

]
vanilla extract
125g
[

scant 1 cup

]
fresh blueberries (not frozen)
6
[

6

]
large paper muffin cases
Directions
Preheat oven: 200°C, 400°F, Gas 6
Mix together the rice, tapioca and potato flours, baking powder, xanthan gum, vegetarian gelatine, sugar, salt and lemon peel.
Mix the apple puree with the egg, oil, milk and vanilla. Mix this into the dry ingredients so that you get a lumpy batter.
Gently fold the blueberries into the mixture, then divide equally into the 6 muffin cases in a muffin tray. Bake for 25 minutes, check they are cooked by sticking a toothpick in the centre, if it comes out clean they are done.
Leave to cool on a baking tray.
These muffins are delicious either hot or cold, and will keep in an airtight container for a couple of days. They also freeze well, line an airtight freezer container with waxed paper or baking parchment, place muffins inside and cover with some more waxed or parchment paper. Use frozen blueberry muffins within a month.