Tropical fruit gateau recipe
"Chocolate sponge cake with whipped cream and fresh mango and passionfruit"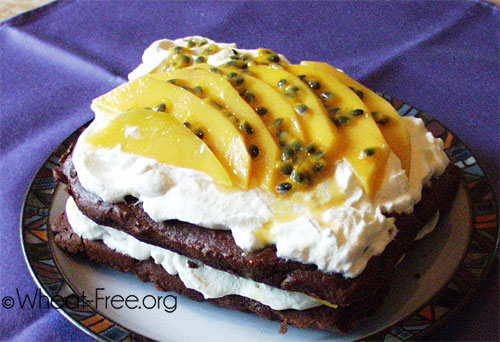 Allergy Information
| | |
| --- | --- |
| Wheat-Free | |
| Gluten-Free | |
| Nut-Free | |
| Dairy-Free | |
| Sugar-Free | |
| Vegetarian | |
| Vegan | |
Mango and passionfruit are two fruits with very distinctive tastes, so make sure that you use ripe fruit to get the best flavours.
This dessert doesn't keep well, so you need to eat it on the day it's made for best results.
Ingredients (Measures: Metric | US)
Sponge
2 medium
[

2 medium

]
eggs, beaten
100g
[

3⁄4 cup

]
gluten free flour
25g
[

1⁄3 cup

]
cocoa powder, unsweetened
1 1⁄2 tsp
[

1 1⁄2 tsp

]
baking powder
Filling
200ml
[

3⁄4 cup

]
whipping cream (substitute:
whipped coconut milk
, but you'll need to start this the day before)
Directions
Preheat oven: 220°C, 425°F, Gas 7
Line a 28cm x 18cm (11" x 7") tin with non-stick baking paper.
Put the butter and sugar into a bowl and beat together until the mixture is smooth and creamy.
Add the beaten eggs, half at a time, and beat well until the eggs are completely incorporated. The mixture may start to look a bit curdled, but this won't be a problem once the dry ingredients are added.
Sieve the gluten free flour, cocoa and baking powder into the egg mixture and fold together thoroughly, taking care not to lose too much of the air in the beaten eggs.
Pour the mixture into the prepared baking tin and level to an even thickness with a spatula (it will end up quite thin). Place immediately into the preheated oven for 6-8 minutes.
Remove sponge from oven and immediately turn out of the tin onto a clean, firm surface. Peel off the baking paper, then lay the baking paper back on top and set aside to cool completely.
While the sponge is cooling whip the cream (or follow instructions for whipped coconut milk) to a soft peak. Peel and slice the mango into strips. Halve the passion fruit.
When sponge is cool, remove the baking paper and then cut in half so that you have two equal size rectangles of sponge. Spread half the whipped cream over one half of the sponge then top with thin slices of mango (reserving some for decorating the top of the gateau). Using a teaspoon scoop out the flesh from one half of the passionfruit and drop small amounts all over the mango and cream layer.
Place the other half of the sponge on top, then swirl the remaining whipped cream on top, add the rest of the mango slices, and scoop out the other half of the passionfruit, sprinkling the seeds on top of the gateau.
Keep in the refrigerator until ready to serve, and eat on the same day of making.
This is quite a quick dessert to make, you could substitute any other soft fruit for the mango and passionfruit, and for the healthier cooks if you wanted to lower the calorie value substitute Greek yogurt for the whipping cream.