Whipped coconut milk recipe
"Dairy free alternative to whipped cream, though you do need to refrigerate the can 24 hours in advance of needing to use"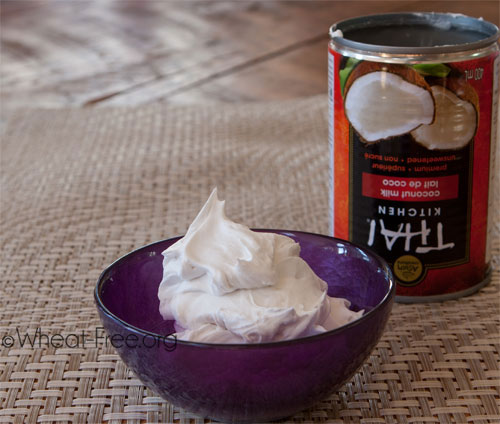 Allergy Information
| | |
| --- | --- |
| Wheat-Free | |
| Gluten-Free | |
| Nut-Free | |
| Dairy-Free | |
| Sugar-Free | |
| Vegetarian | |
| Vegan | |
This whipped coconut milk makes a great dairy free alternative to whipped cream. It's super easy to make, however you do need to start the process the day before you want to use it.
We've successfully substituted whipped coconut milk into recipes, including our Tropical Fruit Gateau recipe, and our Chocolate Cranberry Mousse Pie recipe with success, and although it does change the flavour slightly it still works well as an alternative to dairy cream.
Ingredients
1 can
[

1 can

]
full fat coconut milk (do not use lite coconut milk, it won't work)
Directions
Put the unopened can of full fat coconut milk in the fridge for 24 hours.
After 24 hours, remove can from fridge, invert it and open the bottom.
Carefully pour off the coconut liquid and save it for another recipe, for example smoothies, making ice cream etc.
Scoop the solidified white coconut cream into a bowl, the amount you get does vary depending on the coconut milk brand used. We usually put two cans in the fridge, just in case the first can doesn't provide enough.
Whip the coconut cream with an electric whisk until it is fluffy, then use it as you would whipped cream.
Note: coconut cream won't be quite as stiff as whipped cream, plus if you don't pour off all the liquid before whipping this will also affect how firm it gets.