Rhubarb & custard pie recipe
"Juicy rhubarb in a vanilla custard with crunchy oat and almond topping"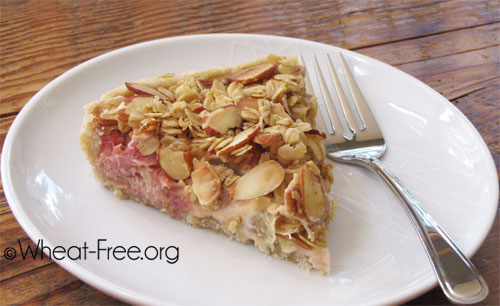 Allergy Information
| | |
| --- | --- |
| Wheat-Free | |
| Gluten-Free | |
| Nut-Free | |
| Dairy-Free | |
| Sugar-Free | |
| Vegetarian | |
| Vegan | |
Preparation time:

1 hr

Cook time:

55 mins

Total time:

1 hr 55 mins

Yield:

serves 8
Remember rhubarb & custard sweets as a kid? This rhubarb & custard pie combines two symbiotic ingredients into a grown up version of those great little candies. Rhubarb doesn't have a very long season, so make the most of it while you can.
Fresh rhubarb is the best to use, however frozen can be used if that's all you have available, plus you can then enjoy it any time of the year. Never use canned rhubarb as the recipe won't work.
Allow 2 hours for making and baking this dessert as there are three distinct stages in the baking, but you'll agree when you taste it that it's worth the effort.
Important note: even using certified gluten free oats it may not be suitable for all celiacs, as some are very sensitive to avenin contained in the oats, see our oats FAQ for more info.
Ingredients
Pastry base:
100g
[

100g

]
butter or margarine
1 large
[

1 large

]
egg yolk
1 tbsp
[

1 tbsp

]
castor or granulated sugar
Filling
100g
[

100g

]
golden granulated sugar
300ml
[

300ml

]
single cream (substitute: whipping cream)
1 large
[

1 large

]
egg yolk
1 pod
[

1 pod

]
vanilla bean seeds (substitute: 1tsp vanilla extract)
Topping
50g
[

50g

]
gluten free oats
25g
[

25g

]
golden granulated sugar
1 tsp
[

1 tsp

]
ground ginger
Directions

Preheat oven: 180°C, 350°F, Gas 4
Butter then line with rice flour a 23cm (9") fluted flan dish.
Put the flours, xanthan gum and sugar in a large bowl, add the butter and mix until it resembles fine breadcrumbs.
Add the egg yolk then enough water to mix the pastry to a soft but not sticky dough.
Line the flan dish with the pastry and lightly prick the base. Place baking parchment or foil on top of the pastry and pour about 0.75cm (approx. ¼") deep layer of baking beans (or use uncooked rice grains) on top. Bake for 20 minutes. Remove liner and baking beans then allow to cool.
Increase oven temperature to: 200°C, 400°F, Gas 6
Chop the rhubarb into pieces (not too small) and put in a pan with half the sugar and 1 tbsp water. Warm gently until the sugar melts and the rhubarb starts to soften, do not overcook the rhubarb, it must stay in whole pieces. Tip rhubarb into a sieve and drain, making sure you keep the juice. Set aside to cool.
In a large bowl beat together the egg, egg yolk, remaining sugar, flour and vanilla bean seeds or extract. Whisk in the cream and 1 tbsp of the juice from the cooked rhubarb.
Spoon the rhubarb into the cooked pastry case then pour the cream mixture over the top.
Bake the flan for 20 minutes, at this point a thin skin should have formed on the top of the custard, if not then leave for a few more minutes.
While the pie is still in the oven mix together the topping ingredients.
Remove the partially cooked pie from the oven and gently spoon the topping evenly over the custard. Return to oven for 15-20 minutes.
Remove the pie from the oven, the topping should be golden brown and the custard underneath just wobbling gently. Allow to cool for 45-60 minutes before cutting to make sure it has set enough.
This dessert can be served warm or cold, add a generous portion of single cream, whipped cream or vanilla ice cream for extra decadence.
To make this dessert nut free simply leave the sliced almonds out of the topping and add extra oats, it will still taste great.