Spaghetti Squash preparation/instructions recipe
"Ever wondered what to do with a spaghetti squash?"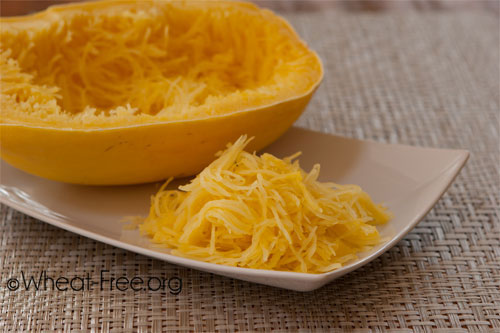 Allergy Information
| | |
| --- | --- |
| Wheat-Free | |
| Gluten-Free | |
| Nut-Free | |
| Dairy-Free | |
| Sugar-Free | |
| Vegetarian | |
| Vegan | |
Preparation time:

5 mins

Cook time:

40 mins

Total time:

45 mins

Yield:

serves 6+
Technically a spaghetti squash is a fruit, the first time we cooked one we had to laugh at how it magically turned from a solid lump of squash into really cool strings.
Spaghetti squash makes an ideal accompaniment to any meal where you'd normally serve pasta, or any other starchy carbohydrate, and is big favourite of Paleo diet fans. Just add a bolognese sauce and you have the perfect Paleo pasta free spaghetti bolognese.
Wheat & gluten free, low in calories, and containing nutrients such as vitamins A & C and folic acid, it's a great way to boost your fruit/veggie intake, and a great way to fool the kids into eating more veggies too.
Ingredients
1 whole
[

1 whole

]
spaghetti squash
Directions

Preheat oven: 180°C, 350°F, Gas 4
Thoroughly wash the skin of the spaghetti squash then slice it in half lengthways. Be warned, they are very hard to cut.
Scrape out and discard the seeds and stringy stuff from the centre of each half. The seeds can actually be roasted, so if you have time to pick them out they don't need to go to waste.
Place the two halves, cut side down in a baking dish. Fill dish with 1cm (approx. 1/2") of water.
Cook in the oven for approximately 40 minutes. Time is dependent on size, typically a medium/large = 40 minutes, small = 30 minutes. However you need to ensure that it doesn't overcook, so a little less time is better than too much.
Remove the cooked spaghetti squash from the oven, flip the halves the right way up so that you can see the cooked squash, and allow to cool for a few minutes.
Arm yourself with a sturdy fork, then pull the fork through the cooked squash, you will see it start to string into spaghetti like pieces. Remove it as you string, to avoid mashing it or breaking the lengths into little pieces. Keep pulling the fork through the squash flesh until you reach the skin.
Serve as you would a pasta spaghetti, or any other type of pasta.
String all the squash while it is still warm, store any that's unused in an airtight container in the fridge. It keeps for 3-4 days in the fridge and reheats really quickly in the microwave.
Nutritional info per 155g (1 cup) serving: 42 calories, 0g total fat, 0g saturated fat, 10g total carbohydrate, 2g fibre, 4g sugars, 1g protein, 0mg cholesterol, 28mg sodium