Pepper & mushroom flan recipe
"Packed with cheese and veggies it makes a satisfying light lunch or bagged lunch item"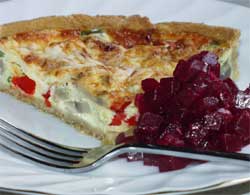 Allergy Information
| | |
| --- | --- |
| Wheat-Free | |
| Gluten-Free | |
| Nut-Free | |
| Dairy-Free | |
| Sugar-Free | |
| Vegetarian | |
| Vegan | |
Preparation time:

50 mins

Cook time:

40 mins

Total time:

1 hr 30 mins

Yield:

serves 6
Flans are so versatile, they can be eaten hot or cold for brunch, lunch, or dinner, and also make a great bagged lunch item.
Ingredients
Pastry:
95g
[

95g

]
low-fat spread, margarine or butter
Filling:
1
[

1

]
red pepper, de-seeded & chopped
1
[

1

]
green pepper, de-seeded & chopped
200g
[

200g

]
mushrooms, sliced thickly
200g
[

200g

]
greek yogurt, unflavoured & unsweetened (or unflavoured unsweetened fromage frais)
3 large
[

3 large

]
eggs, beaten
100g
[

100g

]
cheese, grated
black pepper, freshly ground
Directions
Preheat oven: 200°C, 400°F, Gas 6
Heat the olive oil in a frying pan and gently sauté the mushrooms and peppers until very lightly browned. Drain on kitchen paper and set aside.
Mix the flours, fat and xanthan gum until it resembles fine breadcrumbs. Add water until it binds into pastry.
Oil and brown rice flour a 20-22 cm (8"-9") diameter flan dish.
Roll the pastry out on a brown rice floured surface. Make sure the rolling pin is kept well floured. When the pastry is the right size to cover the sides of the flan dish, gently roll the pastry up on the rolling pin. Transfer the pastry to the flan dish by unrolling it over the dish. Or if it's too fragile then piece it together in the flan dish, making sure all the joins are sealed well.
Prick the pastry base lightly with a fork and chill it in the fridge for 30 minutes.
Remove the pastry case from the fridge and place half the grated cheese in the bottom. Then top with the mushrooms and peppers.
Mix the greek yogurt with the eggs and seasoning. Pour over the mushrooms and peppers.
Sprinkle the remaining cheese over the top, and bake on the middle shelf of the oven for 40 minutes until golden brown on top and firm.
This flan is delicious served hot with jacket potatoes and a crisp green salad. Alternatively serve cold with a tangy beetroot salad.