Mushroom risotto recipe
"Rich, creamy Italian style vegetarian & vegan risotto"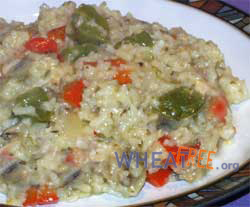 Allergy Information
| | |
| --- | --- |
| Wheat-Free | |
| Gluten-Free | |
| Nut-Free | |
| Dairy-Free | |
| Sugar-Free | |
| Vegetarian | |
| Vegan | |
Preparation time:

10 mins

Cook time:

35 mins

Total time:

45 mins

Yield:

serves 2-3
This mushroom risotto recipe is an Italian style risotto, meaning that it will be soft and creamy when it is cooked, it should never be dry. A good indication that the risotto is the right consistency is if a spoon pulled through the risotto leaves a soft gash which then fills slowly with the risotto flowing back into the space.
The recipe works well as a main course and also as a side dish. On a cold winter's evening it is the perfect comfort food. There is also an alternative Chicken risotto recipe.
Ingredients
200g
[

200g

]
risotto rice (arborio)
2 tbsp
[

2 tbsp

]
olive oil
1
[

1

]
red bell pepper, chopped
1
[

1

]
green bell pepper, chopped
200g
[

200g

]
assorted mushrooms, sliced
750ml
[

750ml

]
vegetable stock (check wheat & gluten free/vegan)
2 tsp
[

2 tsp

]
dried oregano
freshly ground black pepper
additional vegetable stock or boiling water (to add if the risotto starts to get too dry)
50g
[

50g

]
grated parmesan cheese (optional - omit for dairy free or vegan version, or use a vegan parmesan style alternative)
Directions
Put olive oil in a heavy bottomed pan and add the risotto rice, gently heat the rice for 2-3 minutes, until the rice grains look translucent.
Add the onion, peppers and mushrooms and cook for another 5 minutes, being careful not to brown the rice.
Add the vegetable stock and bring to the boil. Turn down the heat and simmer the rice for 25 minutes, adding more vegetable stock of boiling water if necessary to ensure it does not dry out.
At the end of the cooking time the risotto should be soft, moist and creamy, not dry. You may need to adjust the cooking time to get the right texture. It is always better to leave it slightly wetter than too dry.
Add the oregano and seasoning and mix well.
Serve sprinkled with optional grated parmesan or dairy free parmesan style alternative.