Pizza (rice based crust) recipe
"Wondering what to do with that leftover cooked rice? Use it to make the base for this very tasty pizza"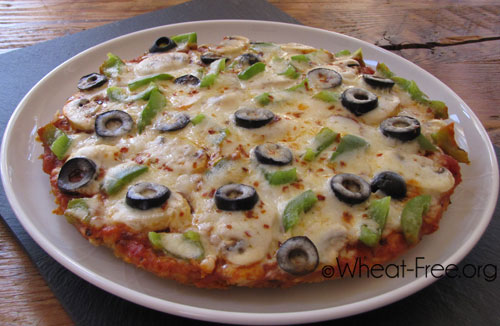 Allergy Information
| | |
| --- | --- |
| Wheat-Free | |
| Gluten-Free | |
| Nut-Free | |
| Dairy-Free | |
| Sugar-Free | |
| Vegetarian | |
| Vegan | |
Preparation time:

10 mins

Cook time:

30 mins

Total time:

40 mins

Yield:

makes one large pizza crust (serves 2-3)
There is nothing in the eating universe that says pizza crust has to be dough based, so this pizza crust is rice based. It's a super easy way to make a pizza if you have some leftover cooked rice.
I loved this pizza, the base ended up a bit crunchy on the bottom and was really tasty, and combined with the chosen toppings and mozzarella cheese it made a very filling lunch for two hungry people.
Ingredients
3 cups
[

3 cups

]
cooked rice (I used leftover cooked sushi rice)
2 cups
[

2 cups

]
mozzarella cheese, grated
1⁄4 tsp
[

1⁄4 tsp

]
garlic powder
3⁄4 cup
[

3⁄4 cup

]
tomato sauce
toppings of choice (I used green bell pepper, mushrooms, black olives and crushed red pepper)
Directions
Mix the rice, eggs and 1 cup of the cheese. Put this mixture into a greased frying pan and pat down [wf.org: we used a 23cm (9") cast iron frying pan, but 25cm (10") would also work]. Cover and cook at medium-low for 15 minutes. This rice base will be your crust, and at this stage the crust should be slightly brown and beginning to set.
Combine oregano, salt, garlic powder and tomato sauce to make sauce (or use a commercial pizza sauce of your choice).
Spread the sauce on the base. Top with toppings of your choice. Sprinkle remaining 1 cup of cheese over the sauce. Cover and cook 10 minutes at the same heat.
Uncover and cook for an additional 5 minutes.
Serves 1 or 2 and is very filling, even better the next day.
Many thanks to Erin Reed, BC, Canada for taking the time to share this recipe with everyone.