Gluten free flour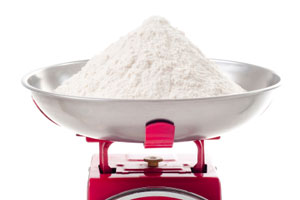 There are a lot of different mixes available commercially that fall under the title "gluten free flour". Then add all the different mixes that recipe sites have put together and given the generic "gluten free flour" label, and it gets a little confusing.
For example:
Bob's Red Mill Gluten Free Flour contains: garbanzo flour, potato starch, tapioca flour, sorghum flour, and fava flour.
Doves Farm Wheat Free and Gluten Free White Self-Raising Flour contains: rice flour, potato flour, tapioca flour, maize flour and buckwheat flour.
Kinnikinnick All Purpose Flour Blend contains: white rice flour, potato starch, tapioca starch, guar gum and sodium carboxy methylcellulose.
Orgran All Purpose Plain Flour contains: maize starch, tapioca flour, rice flour, guar gum.
Tom Sawyer All Purpose Gluten Free Flour contains: rice flour, tapioca flour, xanthan gum, and kosher approved unflavoured gelatin.
As you can see, it's confusing. Then there's the question of whether to add xanthan gum or guar gum, or not. Simple answer is that xanthan or guar gums are needed in small quantities anyway in most gluten free baking recipes e.g. cakes, cookies, pastry, breads etc because you need to add the elasticity missing from not using gluten containing flours.
If your gluten free mix already contains xanthan gum or guar gum then you generally don't need to add any extra, and of course if your gluten free flour mix doesn't contain either, then you will need to add the quantity as stated in the recipe. The one exception is pastry, we've found that pastry usually benefits from a little extra elasticity, so we generally add a little extra xanthan gum even if our commercial mix contains some.
Usage:
Note: When recipes on wheat-free.org refer to "gluten free flour", we are referring to commercially bought versions, not home made mixes. If the gluten free flour mix we use in a recipe is a home made mix, then we specifically list each flour used and their quantities.
Gluten free flour is not an exact replacement for wheat flour, so if converting a wheat flour containing recipe to a gluten free version, some experimentation will be required. And don't expect it to look, taste or turn out exactly like the wheat flour containing version either. However, you will be surprised just how good modern gluten free flours are, and you should be able to get great results using them.
The Living Without Magazine website has some home made gluten free flour mixes, which are very useful if you have access to different types of alternative flours.

Storing:
Buying bulk is okay if you're planning on using a lot of gluten free flour quickly, otherwise it will deteriorate over time, like all ingredients. We recommend that you always put the date of opening on the packaging, and use within a reasonable time if storing in the pantry.
An alternative is storing it in the freezer. We double bag all our flours, then store in the freezer between uses, this helps to maintain freshness.
Alternative names:
All purpose gluten free flour
Multi purpose gluten free flour
Alternative types:
All purpose
Plain
Self-raising
Nutritional information:
Typical values per 100g of product (Bob's Red Mill):
Energy - 294 kcal
Protein - 8.8g
Carbohydrate (total) - 65g
Carbohydrate (sugars) - 3g
Fat (total) - 3g
Fat (saturated) - 0g
Dietary fibre - 8.8g