Mixed bean hotpot with herby dumplings recipe
"Wonderfully warming and filling vegetarian winter comfort food"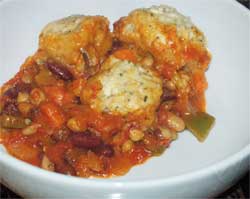 Allergy Information
| | |
| --- | --- |
| Wheat-Free | |
| Gluten-Free | |
| Nut-Free | |
| Dairy-Free | |
| Sugar-Free | |
| Vegetarian | |
| Vegan | |
I love this mixed bean (legume) hotpot. It's chock full of beans in a rich sauce—perfect for a cold winter's day.
Hotpots or stews don't always have to contain meat as this vegetarian hotpot still contains a healthy amount of protein from the legumes. It's also really quick to put together using store cupboard ingredients and a few fresh veggies.
Now I live in Canada I can't get gluten free vegetable suet—in fact I haven't ever seen any type of suet for sale—so I had to come up with an alternative savoury dumpling recipe that works well—though it doesn't form into balls. It's more of a cobbler style topping that spreads over the entire pot of hotpot, but it still rises beautifully into a light fluffy dumpling.
Ingredients
Hotpot:
1 tbsp
[

1 tbsp

]
olive oil
400g
[

400g

]
can chopped tomatoes
400g
[

400g

]
can mixed beans/legumes
1
[

1

]
red pepper, chopped
1
[

1

]
green pepper, chopped
8
[

8

]
mushrooms, cleaned & sliced
100ml
[

100ml

]
vegetable stock
1⁄2 tsp
[

1⁄2 tsp

]
chilli powder
Dumplings:
50g
[

50g

]
gluten free vegetable suet
2 tbsp
[

2 tbsp

]
low fat natural yogurt (unflavoured & unsweetened)
1 tsp
[

1 tsp

]
dried mixed herbs
1 1⁄4 tsp
[

1 1⁄4 tsp

]
baking powder
freshly ground black pepper
Directions
Heat oil and fry onion until lightly browned.
Add tomatoes with their juice, mixed beans, peppers, mushrooms, carrots, chilli powder and stock and bring to boil.
In a bowl mix the flours, suet, yogurt, herbs, baking powder, and seasoning with enough water to bind together.
Shape the dumpling mixture into 7-8 dumplings, and gently drop onto the simmering bean mixture.
Cover and simmer for 15 minutes, the dumplings will rise to light, puffy balls.
These dumplings are so light they melt in the mouth. Serve with a generous portion of bean hoptpot and a mixture of any lightly steamed vegetables, or roast parnsips.