Chicken risotto recipe
"This Italian style risotto, with or without chicken, makes wonderful winter comfort food"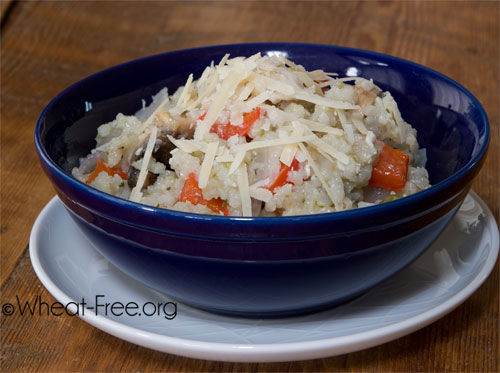 Allergy Information
| | |
| --- | --- |
| Wheat-Free | |
| Gluten-Free | |
| Nut-Free | |
| Dairy-Free | |
| Sugar-Free | |
| Vegetarian | |
| Vegan | |
Preparation time:

15 mins

Cook time:

35 mins

Total time:

50 mins

Yield:

serves 2-3
Italian style risotto is meant to be creamy, and very moist, not dry. While cooking you need to keep a careful eye on it, stirring regularly, and adding hot stock or boiling water whenever it looks like it's drying out. The finished risotto should be wet enough that a spoon drawn through it will see it slowly seep back together, if it leaves a permanent gash then it's too dry and needs more fluid.
Personally I love this recipe, it reminds me of cold wet winter days when I lived in the UK; I'd probably cook this once a week throughout fall and winter and it never ever got boring. Sometimes I'd leave the chicken out and go mad with the grated cheese instead, using a mix of parmesan, cheddar, and even feta.
To make it vegetarian or vegan simply leave out the chicken and use vegetable stock. And don't add the optional parmesan for dairy-free or vegan, or you can use a dairy-free alternative.
Ingredients (Measures: Metric | US)
200g
[

1 cup

]
risotto rice (arborio), uncooked
2 tbsp
[

2 tbsp

]
olive oil
1
[

1

]
red pepper, chopped
1
[

1

]
green pepper, chopped
10-12
[

10-12

]
mushrooms, sliced
750ml
[

3 cups

]
wheat/gluten free chicken or vegetable stock (+ extra stock or boiling water to avoid risotto drying out during cooking)
2-3
[

2-3

]
skinless chicken breasts, chopped
1 tbsp
[

1 tbsp

]
olive oil
2 tsp
[

2 tsp

]
dried oregano
freshly ground black pepper
50g
[

3⁄4 cup

]
parmesan cheese, grated (optional, leave off for dairy-free)
Directions
Put 2 tbsp olive oil in a heavy bottomed pan and add the risotto rice, gently heat the rice for 2-3 minutes, until the rice looks translucent.
Add the onion, peppers and mushrooms and cook for another 5 minutes, being careful not to brown the rice.
Add the stock and bring to the boil. Turn down the heat and simmer uncovered for approximately 25 minutes or until the rice is tender but not mushy, adding additional boiling water or stock as necessary to ensure it does not dry out.
Put the chicken pieces in a frying pan with 1 tbsp of oil and cook until lightly browned and cooked through to the centre.
At the end of the risotto cooking time add the chicken, oregano and seasoning and mix well.
Serve sprinkled with grated parmesan.