Cranberries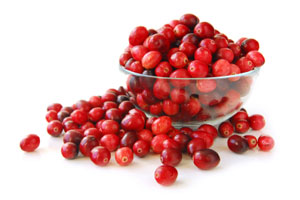 Cranberries are native to North America and northern Europe. The berries are harvested, somewhat unusually, by flooding the fields that they grow in, leaving the fruit to float to the surface because they have a small air pocket inside. They are collected from the water and the moisture on them allowed to dry off before packaging or processing. A small percentage of cranberries are dry picked, and these are generally sold as fresh cranberries, rather than frozen or otherwise processed.
Cranberries are the traditional accompaniment to roast turkey in cranberry sauce, and are served in abundance at Thanksgiving and over the festive season. Because they have a slightly sharp flavour they go very well with sweet or savoury foods, our cranberry muffins, or cranberry oat bar recipes are perfect for the combination of sharp and sweet, and very easy to make using fresh cranberries.
Storing:
Cranberries can be frozen or used fresh. Fresh berries should be stored in the fridge until used. Dried cranberries should be stored in an airtight container.
If freezing fresh cranberries then they should be thoroughly washed and well dried before packing into airtight containers or freezer bags. Cranberries that have been frozen then defrosted are not suitable for making cranberry muffins as the berries need to be quite firm.
Health benefits
Apart from using in cooking, cranberries are also used as a remedy for cystitis and other bladder, kidney and urinary tract infections. Scientific research suggests that cranberries contain a substance that stops the infectious bacteria from clinging to the cells that line the urinary tract and bladder.
Many urologists recommend that drinking a glass of cranberry juice a day will help to keep the urinary tract and bladder healthy, or control mild infections, however medical advice should always be sought if there are symptoms of an infection.
Cranberries contain moderate levels of vitamin C, fibre and manganese, but many cranberry juice drinks contain too much sugar or sweetener, so caution should be exercised if drinking too much of these heavily sweetened types, try to obtain unsweetened if possible.
They are also a source of polyphenol antioxidants, which are being researched for possible benefits to the cardiovascular immune systems, and as anti-cancer agents for certain cancers, and may inhibit formation of plaque by the pathogens that cause tooth decay.
Alternative types:
Dried cranberries
Cranberry sauce
Cranberry jelly
Alternative names:
Bouncing berries - 'good' cranberries literally bounce if dropped, 'bad' ones don't
Nutritional information:
Typical values per 100g of raw cranberries
Energy - 46 kcal
Protein - 0g
Carbohydrate (total) - 12g
Carbohydrate (sugars) - 4g
Fat (total) - 0g
Fat (saturated) - 0g
Dietary fibre - 5g