Apple & apricot pie recipe
"Crisp apples and flavourful apricots make this a great summer dessert"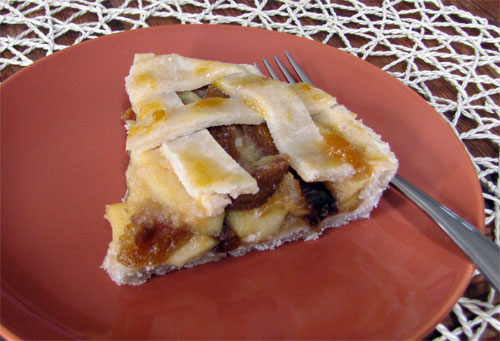 Allergy Information
| | |
| --- | --- |
| Wheat-Free | |
| Gluten-Free | |
| Nut-Free | |
| Dairy-Free | |
| Sugar-Free | |
| Vegetarian | |
| Vegan | |
Preparation time:

30 mins

Cook time:

40 mins

Total time:

1 hr 10 mins

Yield:

serves 8-10
Apple pie... great at any time of the year, but especially good with vanilla ice cream on hot summer days. Or serve it warm from the oven with hot custard poured over the top on those cold wintery days when comfort food is required. My favourite vanilla ice cream is So Delicious Dairy Free No Sugar Added Vanilla Bean Ice Cream, it's rich and creamy and almost virtuous in calories, or you can be really sinful and serve it with whipped cream or whipped coconut milk instead.
When I was growing up my Aunt used to make the absolute best apple pie in the world—to a child anyway. Every school vacation I'd spend a week or two with her and my Uncle, and it would be the absolute best time of the entire school break. My Aunt used to make the deepest apple pies with cinnamon and mixed spices, sometimes there'd be raisins too. And there was always an apple pie fragrantly baking in the oven when I arrived to stay—such happy memories.
So you can see why I still love apple pie. This version is wheat, gluten, nut, dairy, and processed sugar free (because I used a sugar free apricot spread). It's also vegetarian and vegan, though you can use dairy based fat if you don't need to avoid it.
Ingredients (Measures: Metric | US)
Pastry:
150 g
[

2⁄3 cup

]
non-dairy margarine or butter, plus extra to butter the tart tin (I used Becel Vegan, though you could use a dairy based version if vegan/dairy free is not required)
1⁄2 tsp
[

1⁄2 tsp

]
xanthan gum
(if your gf flour doesn't contain any, then use 1 tsp)
Filling:
3 medium
[

3 medium

]
firm flesh apples, cored, peeled, and sliced (I prefer Fuji or Jonagold)
1 tbsp
[

1 tbsp

]
lemon juice
250ml
[

1 cup

]
apple sauce/purée
100g
[

2⁄3 cup

]
dried apricots, sliced into strips (I used organic unsulphured apricots, which is why the apricots are brown in the picture, you could use the "orange" version instead)
4 tbsp
[

1⁄4 cup

]
apricot jam or spread (I used St Dalfour Apricot Preserve which has no added sugar)
Directions
Preheat oven: 200°C, 400°F, gas 6
Lightly oil or butter and dust with rice flour a 23cm (9") deep pie dish.
Into a large mixing bowl put the rice flour, gluten free flour, xanthan gum, and non-dairy margarine/buttery. Mix together until it resembles large breadcrumbs. Add enough water to knead into a smooth ball of pastry dough. If the pastry appears too dry and crumbly then sprinkle with a little more water until it makes a smooth ball. Wrap and chill in the fridge for 30 minutes.
After the pastry has chilled, roll it out on a lightly rice floured surface to a size large enough to completely line the pie dish, including the sides. You may find it too delicate to lift in one piece and have to patch it together in the pie dish. Trim the top edge to neaten the pastry, and reserve the leftover pastry to make the lattice top (wrap in clingfilm to prevent it drying out).
Prick the base of the pastry lightly with a fork, do not go all the way through. Then bake the pastry shell for 15 minutes.
While the pastry shell is baking make the filling.
Put the sliced apples, lemon juice and water into a saucepan and gently heat until the apples start to soften. You want them to remain a little firm, so don't cook them to mush.
Remove the softened apples from the heat and stir in the apple purée and sliced apricots. Mix thoroughly together.
When the pastry shell is baked, spoon the apple mixture into it making sure that the apricots are evenly distributed.
Roll out the remaining pastry and cut into 12mm strips (1/2")
Gently pick up the strips, we find it easiest to slide them onto a spatula, then lay them on the top of the apple mixture in a lattice pattern, leaving gaps where the apples will be exposed. Trim the overhanging strips off.
Gently warm the apricot spread and brush it generously over the pastry lattice. If you have any left then drop small blobs into the pastry gaps.
Bake for 25 minutes, until the pastry is lightly browned.
Serve warm or chilled.